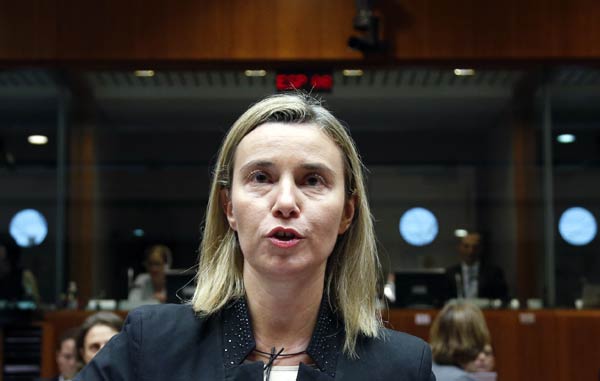 European Union foreign policy chief Federica Mogherini chairs an extraordinary European Union foreign ministers meeting in Brussels January 29, 2015. [Photo/Agencies]
BRUSSELS -- European Union (EU) foreign policy chief Federica Mogherini said on Thursday that EU foreign ministers decided to extend the targeted sanctions against Russia by six months until September.
Mogherini made the remarks at a press conference after the extraordinary foreign ministers' meeting.
She said the EU would have proposals within a week to expand this blacklist and start preparatory work on measures which can be taken to ensure the implementation of Minsk agreement.
"We have decided to have a proposal within one week of further names of individuals and entities, to be added to this list. That decision will be taken at the next Foreign Affairs Council, on Feb. 9," she said.
"This was result by consensus of a long and good discussion among the Ministers," she said.
"We have shown that the European Union is ready to take further measures and to prepare for the measures for the weeks to come, if the situation not only doesn't improve, but gets worse, as was the case in the last days," said Mogherini.
Last Saturday morning, Mariupol came under shelling of rocket fire, which hit an open-air market and nearby homes and shops and caused heavy casualties.
The death toll of the rocket attack has risen to 30, while almost 100 people were wounded, according to local authorities.