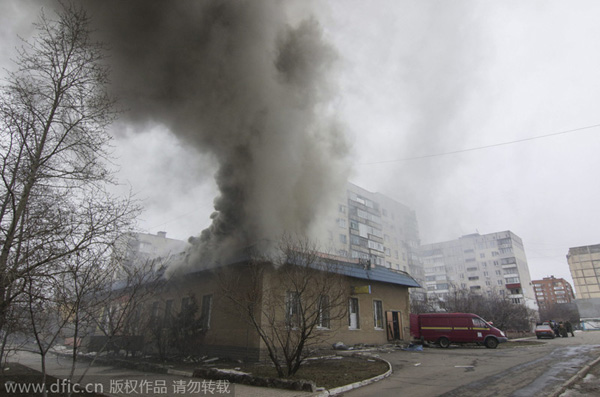 A man walks past a burnt-out vehicle after a shelling by pro-Russian rebels of a residential sector in Mariupol, eastern Ukraine, January 24, 2015. [Photo/IC]
KIEV - The death toll of a rocket fire in the government-controlled port city of Mariupol in restive eastern Ukraine on Saturday has risen to 30, while almost a hundred of people were wounded, local authorities said.
"Currently we can confirm that 30 people, of which there were two children, have been killed," Oleg Kalinin, a spokesman for the mayor of Mariupol, told local media.
Previously, Mariupol city council said that at least 27 people died and 97 others were wounded in the attack, which hit an open- air market and nearby homes and shops.
Following the attack, Ukrainian President Petro Poroshenko has called an emergency meeting of the National Security and Defense Council over the escalating tensions in eastern regions.
Earlier in the day, Alexandr Zakharchenko, leader of independence-seeking insurgents in eastern Ukraine, said that the rebel forces are launching an offensive on Mariupol to capture the government-controlled city.
Mariupol, a strategic port city on the Azov Sea with a population of about 460,000 people has been under the control of the government forces since June.
The latest outbreak of violence, which began two weeks ago, marked a new wave of escalation of the nine-month-old conflict in eastern Ukraine.
Since Jan 12, about 290 people have been killed during the fighting between government troops and rebels, bringing the overall death toll in the conflict to over 5,000 people.