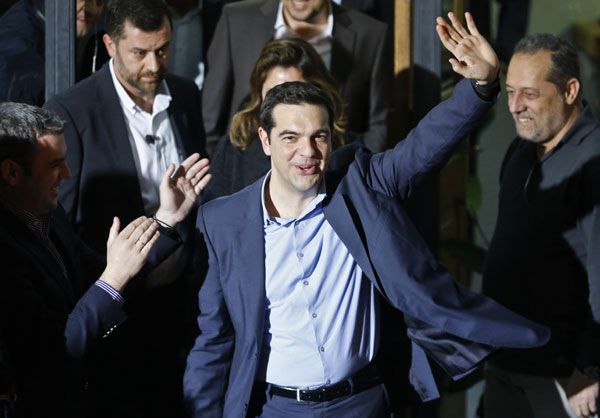 Head of radical leftist Syriza party Alexis Tsipras waves while leaving the party headquarters after winning the elections in Athens, January 25, 2015.[Photo/Agencies]
ATHENS, Greece - Greece's left-wing Syriza party prepared to launch coalition talks Monday, hours after a landmark general election victory fought on a pledge to rewrite the country's massive bailout deal with the eurozone.
Alexis Tsipras' party just missed a majority in parliament after defeating Prime Minister Antonis Samaras' conservative coalition by a wider margin than expected.
With 99.8 percent of the vote counted, Syriza had 149 seats in the 300-member parliament with 36.3 percent of the vote. The conservatives were on 27.8 percent, and the extreme right Golden Dawn party in third place with 6.28 percent.
Tsipras is to meet the leader of the right-wing Independent Greeks party, an anti-bailout ally, on Monday morning, with the party already expressing willingness to join a coalition.
"I believe that by the end of the day, Mr. Tsipras will be in a position to form a government," senior Syriza official Dimitris Stratoulis told private Mega television.
Tsipras' choice to start power-sharing negotiations with Independent Greeks rather than the centrist Potami caused concern that he could take a tough line in negotiations with rescue lenders.
Syriza's financial planning official, Giorgos Stathakis, confirmed Monday that the new government had no plans to meet with negotiators from the "troika" of the European Central Bank, the European Commission and the International Monetary Fund and would instead seek talks directly with governments.
Stocks on Japan's Nikkei index were down 0.25 percent on eurozone concerns.
Greek voters swung to the once-marginal left-wing party after five years of punishing austerity measures demanded under 240 billion euro ($268 billions) bailout deals threw hundreds of thousands of people out of work and left nearly a third of the country without state health insurance.