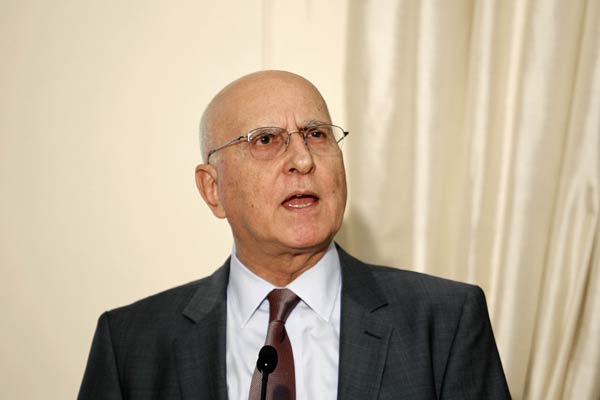 File photo of Stavros Dimas. [Photo/Agencies]
ATHENS -- Greek government proposed on Tuesday former EU Commissioner of Environment Stavros Dimas for President of the Hellenic Republic in the upcoming elections which are due to be held at the Greek parliament on Dec 17.
"Together with the Deputy Prime Minister we chose the best candidate for the Presidency of the Republic: Stavros Dimas, a former minister and MP, EU Commissioner, who has been honored with special distinctions, especially in the field of Environmental Protection, a man appreciated by the Greek society and respected by the international community," Prime Minister Antonis Samaras said in a televised message.
"Stavros Dimas is admittedly a person that unites, but also inspires. He unites citizens beyond partisan preferences and inspires seriousness, trust and respect. With the election of the new President, Greece - perfectly stable both economically and politically - will be in all respects ready to proceed to the next day; (the day) of calmness, stability and development," the Greek Premier stressed.
On the conservative-led coalition government's decision which was announced on Monday to bring forward by two months the presidential election Samaras argued that the move was made to clear the clouds of political instability caused by the main opposition Radical Left SYRIZA party's insistence to use the presidential election as a vehicle to force snap general elections.
Under the Greek Constitution the President must be elected by at least 180 deputies in the 300-seat parliament after three rounds of vote. If the process ends in failure, the parliament is dissolved and early general elections are called in a month.
According to the current time schedule draft, the second vote in parliament if necessary will be held on Dec. 23 and the third on Dec. 29.
Dimas, born in 1941, has studied law at the Athens University and political and economic science in London and New York, according to Greek national news agency AMNA. He has worked at a Wall Street firm and as a World Bank executive.
In 1975, he was appointed deputy governor of the Hellenic Industrial Development Bank. He was also member of the negotiating committee for the accession of Greece to the European Economic Community (EEC).
He was first elected deputy to the Greek Parliament under the conservative New Democracy party in 1977.
Between 1989 and 1991, he served as Agriculture and then as Industry, Energy and Technology minister.
In March 2004, he was appointed European Commissioner for Employment and Social Affairs, taking over the role from the previous Greek Commissioner Anna Diamantopoulou, while in November 2004 he assumed the environment portfolio.
In July 2010, he was appointed New Democracy Vice President for the sector of Economy, Development and Competitiveness, Shipping, Energy, Environment, Infrastructure and Transport, Health, Social Policy and Government Program.
In November 2011, he was sworn in as Foreign Minister in Lucas Papademos' interim coalition government.