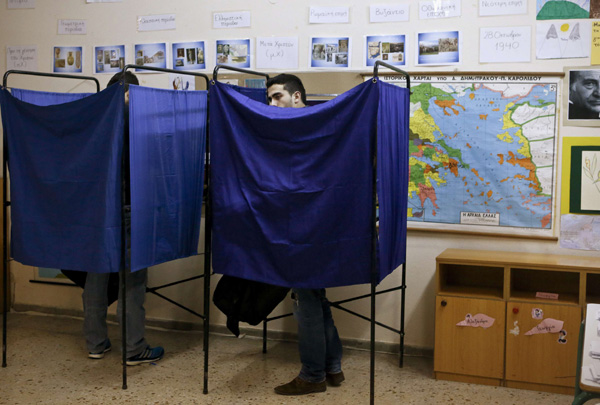 A man casts his vote in a booth during the Greek parliamentary elections in Athens, January 25, 2015. [Photo/Agencies]
ATHENS - Greek voters started casting their ballots Sunday in a snap general election that will decide whether the debt-laden country will keep on the austerity and reform path or change course.
Polling stations opened at 7:00 am (0500 GMT) and will close at 7:00 pm local hour (1900 GMT).
About 10 million Greece citizens registered for this election with more than 5 million of them being female voters.
As this election is regarded as a critical turning point for the Greek people to choose between austerity and change, it is being closely watched by the Eurpean Union (EU) and beyond.
All opinion polls showed that the leftist STRIZA party, which campaigned to form the first euro zone government committed to scrapping austerity if it wins the election, held a clear lead.
The SYRIZA calls for a renegotiation of the country's 240 billion euro international bailout package, and has promised to reverse many of the current fiscal policies imposed by the ruling New Democracy party.
Despite the SYRIZA's confidence that a "mutual acceptable" deal can be struck between Greece and its creditors, the EU powers insist Greece must honor its commitments to continue receiving their support.
Investors and markets alike are also expressing their concerns over the likely changes in Greek fiscal policies.
First exit polls are expected shortly after the voting ends. The first official estimates will be released by the Interior Ministry at around 21:30 local time (1930 GMT).