Greek ferry rescue continues; 289 reach land
Italy opens criminal probe into fire on vessel at sea during a crossing to Italy
At least 289 people have been evacuated to safety from an Italian-flagged automobile ferry that caught fire in the Adriatic Sea, the Greek authorities said on Monday.
Nikolaos Lagadianos, spokesman for the Greek Coast Guard, said that more than 100 people remained trapped on the smoke-filled vessel adrift in rough seas between Italy and Albania.
Prosecutors in the Italian port of Bari on Monday opened a criminal investigation into how the ferry caught fire.
Five people were killed in the risky rescue operation and two others were injured as Italian and Greek rescue ships and helicopters plucked passengers off the stricken vessel and brought them to safety aboard the 10 or so mercantile ships nearby. Those evacuees were to be brought to shore later after the rescue was completed, Greek officials said.
One of the cargo ships, the Spirit of Piraeus, docked in Bari just after 7:30 am on Monday with 49 survivors aboard. The first to disembark was an injured man wrapped in a yellow striped blanket and wearing bandages around his bare feet, who was helped down the ship's ladder by two rescue workers.
Other evacuees, many wrapped in blankets, made their way slowly down the ladder with assistance, some thrusting their hands in a victory sign as they waited their turn. Among them were four children. TV crews and relatives gathered on the docks below in near silence.
The evacuees then boarded bright red fire department buses. Officials have said hotels have been booked for them around town.
The ship came ashore in Bari after first trying to dock overnight down the coast in Brindisi. Rough seas forced a change in plans.
The fire broke out before dawn on Sunday on a car deck of the Italian-flagged Norman Atlantic, which was carrying 422 passengers and 56 crew members. All day and night, passengers huddled on the vessel's upper decks, pelted by rain and hail and struggling to breathe through the thick smoke.
Helicopters rescued passengers throughout the night, completing 34 sorties with winds over 40 knots (75 kilometers per hour).
'Burn like rats'
"Notwithstanding the weather and the darkness, which is another factor, we persisted throughout the entire night," Italian coast guard Admiral Giovanni Pettorino told Sky TG24.
Athens said its army had also sent a C-130 military transport plane to Lecce on Italy's southeastern heel to pick up Greeks who had escaped the flames.
Those remaining on board were given thermal blankets and found places to wait protected from the elements "even if the conditions remain very difficult", Pettorino said.
In desperate scenes earlier in the day, terrified passengers pleaded by mobile phone live on TV to be saved from the vessel, which was traveling from the Greek port of Patras to Ancona in Italy.
"I cannot breathe, we are all going to burn like rats - God save us," cried one of the ship's cooks in a call to his wife, she told journalists.
AP - AFP - Xinhua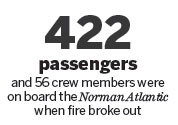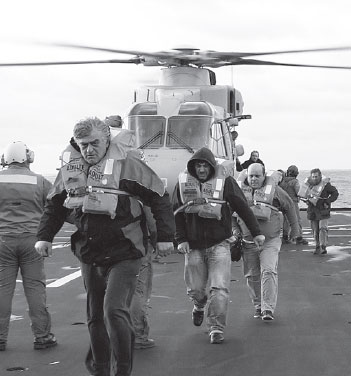 Passengers and crew from the Italian-flagged Norman Atlantic, which caught fire in the Adriatic Sea, are rescued from the Italian navy ship San Giorgio on Monday. Italian Navy Via Associated Press
(China Daily 12/30/2014 page11)
Today's Top News
Editor's picks
Most Viewed