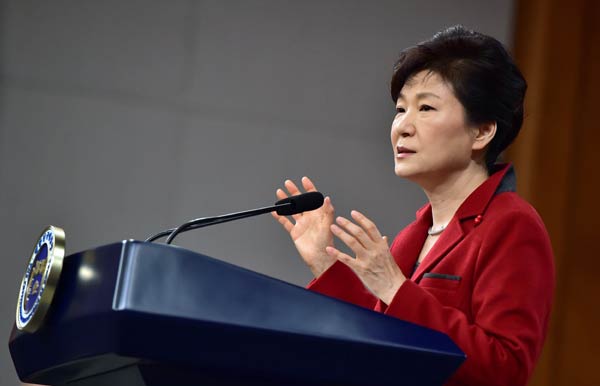 South Korean President Park Geun-Hye speaks during her New Year news conference at the presidential Blue House in Seoul January 12, 2015. [Photo/Agencies]
SEOUL -- The Republic of Korea plans to legalize its government responsibility for peaceful unification with the Democratic People's Republic of Korea, Seoul's unification ministry said on Monday.
The law, tentatively titled "act to lay foundation for peaceful unification," will be enacted this year, the ministry said in its annual report to President Park Geun-hye.
South Korea has a law on developing inter-Korean relations and the new act aims to piece out the law by adding the government's responsibility and a way of preparing for peaceful unification.
Under the principle of "opening a unification era" in 2015 to mark the 70th anniversary of the peninsula's division, the South Korean government plans to cultivate manpower in charge of unification preparations and set up task forces in each government ministries.