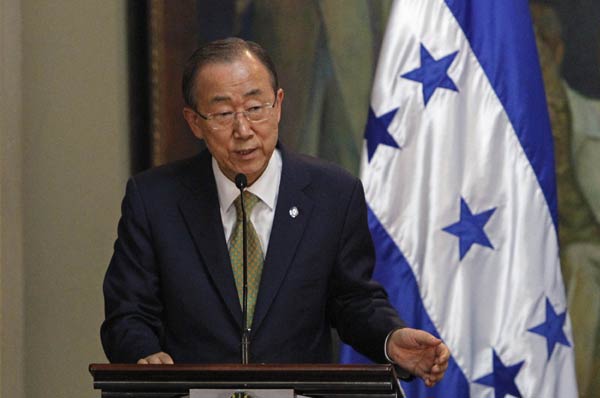 United Nations Secretary-General Ban Ki-moon speaks during a news conference at the presidential palace in Tegucigalpa January 14, 2015. [Photo/Agencies]
UNITED NATIONS -- The United Nations has assured the Democratic Republic of Korea (DPRK) it would be doing all within its power to foster dialogue to reduce tension on the Korean Peninsula, a UN spokesman said Wednesday.
UN Deputy Secretary-General Jan Eliasson made the remarks while meeting with Ambassador Ja Song-nam, the permanent representative of the DPRK to the United Nations, Tuesday, said Farhan Haq, the deputy UN spokesman, at a daily news briefing here in response to a press question about the meeting.
Eliasson "took note of the call for dialogue" in the New Year's Day address by DPRK leader Kim Jong-un, the first secretary of the Workers'Party of Korea and top leader of the DPRK, Haq said. " The deputy secretary-general emphasized the secretary-general's view that renewed engagement and dialogue was the only way forward for building trust and promoting inter-Korean relations."
"The United Nations stands ready to support efforts to facilitate peace and stability in the region, especially during this symbolic anniversary year for the Korean Peninsula," he said, referring to the 70th anniversary of the liberation of the Korean Peninsula from the Japanese occupation. "The deputy secretary- general welcomed the words of appreciation for the work and attention of the United Nations, and underlined the vital importance of programs to address continuing basic needs of the most vulnerable people in the DPRK."
Also on Tuesday, Ambassador An Myong Hun, the newly appointed deputy permanent representative of the DPRK to the United Nations, told reporters that "now is the time to stop this antagonism," referring to annual joint military exercises between the United States and the Republic of Korea, exacerbating relations between the two Koreans.
Washington rejected Pyongyang's New Year proposal that the war games be suspended.
"Refusing to accept the proposal of the government of the DPRK the United States has shown once again that they will continue to increase military capabilities in South Korea while requesting us to not to have our own national defense capabilities." said An. " This is absolutely unacceptable and cannot be justified by anything."