The color red holds a special place in China, especially a rich, ruby red. The Chinese believe red brings good luck.
The affinity for that color is a plus for the people in the United States who grow, promote and sell cherries around the world.
"Red means good luck and prosperity," said Keith Hu, director of international marketing at Northwest Cherry Growers in Yakima, who has witnessed an enormous growth in cherry exports from the Northwest to China. "It's good for you to eat dark greens and dark red products."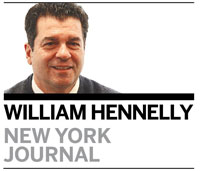 Cherries are rich in antioxidants and also help reduce inflammation, among other health benefits.
"The cherry is one of those perishable goods that is very attractive to the Asian consumer," Hu said. "Tastes good, looks great. It's very appealing. The product safety is insured."
Northwest Cherry Growers, which is part of the nonprofit Washington State Fruit Commission, represents sweet-cherry growers in Washington, Oregon, Montana, Utah and Idaho. About 90 percent of the cherries come from Washington, which, not coincidentally, is No 1 of the 50 states in total exports to China. Northwest cherry growing season runs from June through August.
"We pretty much lifted the fresh cherry market in China, and it spread like wildfire during the Chinese New Year," said Hu, a native of Taipei, Taiwan. Hu said his organization first started shipping cherries to China nine years ago.
China does have some cherry farms in the northeast, in Shenyang province, but the packing and shipping technology isn't up to the level of the US operation yet, Hu said.
In 2007, Hu's company coordinated shipments of 285,000, 20-pound boxes to China. In 2012, that number grew to 2.06 million.
The value of the perishable cargo has risen from $12.3 million in 2007 to almost $89 million in 2012.
On Tmall.com, China's major online retailer owned by Alibaba Group Holdings Ltd, the number of cherries sold in China jumped from 160 tons in 2013 to nearly 650 tons last year, Hu said. Add in JD.com and the number rises to 1,000 tons, although Hu did allow that one Tmall pre-order promotion in which Chinese customers were able to get cherries for under $7 a pound was a "loss leader".
Still, the cherries are reasonably priced considering that they're imported and in high demand. It also takes only 48 to 72 hours for the cherries to be delivered.
Thanks to the efficient logistics, cherries are available for the same price in China that they can be bought for in many parts of the US.
"By the time you find them in a retail store in China, cherries run anywhere from $7 to $9 a pound," Hu said.
What also has been remarkable is the growth in the cherry market on the Chinese mainland. Expanding middle and upper classes have lifted Chinese consumers' disposable incomes, along with a booming GDP well above 7 percent that only recently started to let up.
In 2007, $9.3 million worth of cherries was sent to Hong Kong, and only $3 million to the Chinese mainland. In 2012, $50 million worth was shipped to the mainland.
Also helping with logistics is China Eastern Airlines. In June, its subsidiary China Cargo Airlines started weekly flights from the Seattle's SeaTac International Airport to Shanghai, known as "cherry charters" in the Northwest. China Eastern not only flies the cherries to China, it also offers them on its passenger flights and on its e-commerce site, eaemall.com.
Northwest Cherry Growers has 10 people working on the ground helping with distribution, in Shanghai, Guangzhou and Hong Kong.
The Northwest isn't without cherry competition. Michigan specializes in sour cherries, and Chile and Australia also are in the business. Other airlines hauling cherries to China include FedEx, UPS, Korean Air, Asiana Airlines and China Airlines in Taiwan.
Hu sees no letup in cherry sales and expects 10 percent market growth over the next three to five years, even as China's economy is expected to decelerate.
"The kind of consumer I'm targeting is protected from the economic downturn," Hu said. "I'm pretty gung-ho."
Contact the writer at williamhennelly@chinadailyusa.com.