With its network expanding to more than 140 countries and regions, UnionPay has become a global payment brand with an extremely large cardholder base, said a senior executive.
Today's global coverage is the result of its cross-border payment and service system, said Cai Jianbo, CEO of UnionPay International.
"More than 32 million cards have been issued in over 30 countries and regions outside the Chinese mainland, and the numbers have been growing continuously.
"Our vision is to bring tangible benefits to cardholders," says Cai.
UnionPay enables cardholders to use various services at over 13 million merchants and more than 1.1 million automatic teller machines outside the Chinese mainland, according to information from UnionPay International, its global business arm.
With cardholders traveling around the world, UnionPay International launched a series of benefit and privilege programs, accelerating revenue growth to its global partners.
Kim Myung-in, a manager with Lotte Duty-Free in Seoul, said that UnionPay is a virtually a VIP card in shops there.
"Many brands have joined our program, which offers discounts of up to 15 percent to UnionPay cardholders."
Since the beginning of the year, UnionPay International has rolled out global special offers for cardholders that cover the world's top 60 airport duty-free shops, 40 commercial districts and dozens of tourist attractions.
Holders of cards issued overseas can also benefit from China's domestic campaigns in shopping centers and travel destinations.
In Shanghai, overseas UnionPay cardholders had already used the benefits offered by tourist destination Xintiandi just week after a campaign was launched in mid-October.
UnionPay cardholders were able to access card emergency services that enables cardholders to call the hotline of the card-issuing bank or local UnionPay hotline to apply for cash assistance up to the equivalent of $5,000.
By October 2014, emergency cash assistance can be completed within a day at the soonest at over 400,000 Assist Card and MoneyGram outlets located in 220 countries and regions as well as outlets of local partner banks in 20 countries and regions.
Using UnionPay cards to obtain tax refunds is also popular among cardholders.
"It saves the trouble of currency conversion, and does not charge any commission fee, and the process is convenient and you don't need to line up at the cash refund office," said Sun Xuemei, a Shanghai traveler who is a frequent user of UnionPay's tax refund services.
As UnionPay cooperates with Global Blue and Fintrax Group to operate overseas tax refund services, those who purchase items from any of the more than 300,000 stores across the world with the tax refund labels of Global Blue and Fintrax Group can have a tax refund remitted to their UnionPay accounts.
Recent research by UnionPay International and the China Travel Service head office shows that compound annual growth rate of Chinese consumer spending on dining over the past year was more than 65 percent, while entertainment spending was up more than 60 percent.
World's travelers are more willing to spend on non-shopping items than ever, and UnionPay International has made efforts to respond to the market trends.
"We have established more partnerships with merchants focusing on services to bring more convenience to global travelers and UnionPay cardholders in supermarkets, gas stations, car rental services and taxi services," said Cai.
"Our cardholders can have easy access to these services and enjoy their trips."
"We are committed to making UnionPay a global network and international brand," said an employee who has worked at one of UnionPay International's overseas branches for years.
wuyiyao@chinadaily.com.cn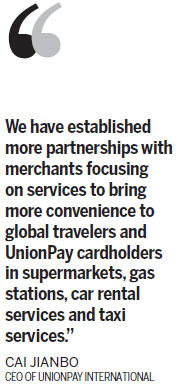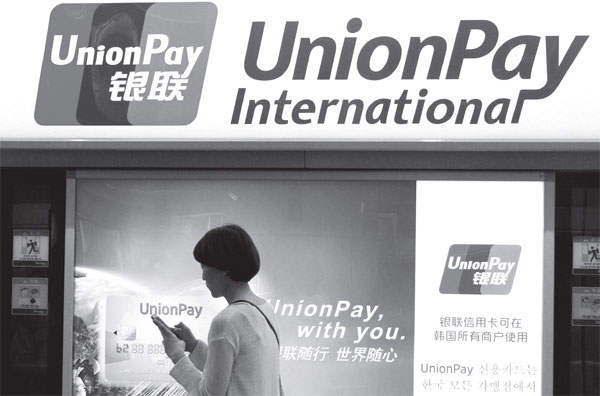 UnionPay has launched a series of benefit and privilege programs for its customers. Photos Provided to China Daily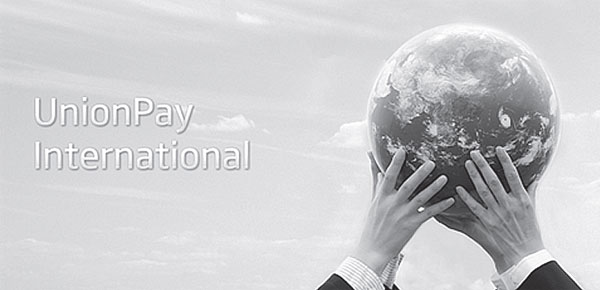 UnionPay International has become a brand name for cardholders at home and abroad.
(China Daily 11/10/2014 page26)