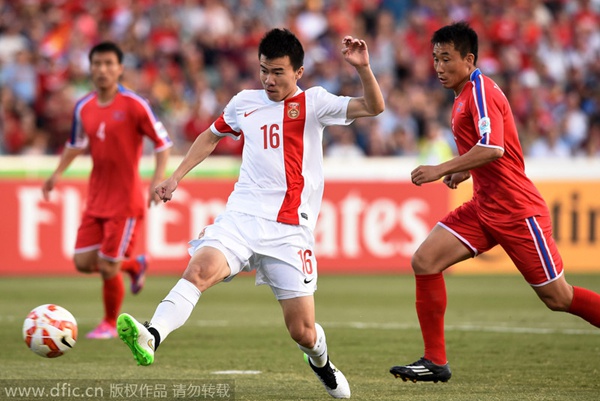 Sun Ke, center, puts China ahead against the DPRK in an AFC Asian Cup Group B match in Canberra, Australia. China emerged a 2-1 winner to complete a 100 percent group phase, Jan 18, 2015. [Photo/IC]
CANBERRA - Midfielder Sun Ke scored twice to help China beat the Democratic People's Republic of Korea (DPRK) 2-1 and advance to the Knockout stage with a best-ever three stragight wins as Group B leaders at the AFC Asian Cup before tens of thousands of Chinese fans here on Sunday.
China will challenge hosts Australia, runners-up of Group A, at the quarter-finals in Brisbane on Jan 22.
Sun Ke, who scored the crucial winner in China's 2-1 victory over Uzbekistan, continued his heroic performance tonight at the nearly fully packed Canberra Stadium where most of the spectators are supporters of China. Sun quickfired in less than one minute after kickoff with a nice outstep stab inside the penalty area after DPRK defender Jang Song Hyok made an error in clearing Jiang Zhipeng's long pass.