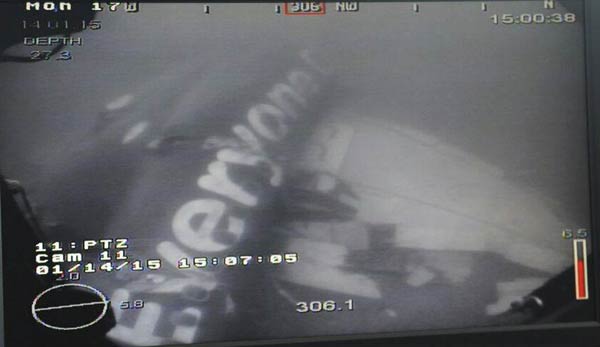 A part of the fuselage of the AirAsia Flight QZ8501, is seen in an image captured by the Remotely Operated Vehicle (ROV) on the Singapore Navy's MV Swift Rescue, in the Java Sea on January 14, 2015. [Photo/Agencies]
SINGAPORE -- Singapore officers and specialists who have participated in the search effort of crashed AirAsia flight QZ8501 said on Thursday that the search was " challenging in the rough seas."
Six officers from the Maritime Port Authority of Singapore (MPA) , four specialists from the Ministry of Transport's Air Accident Investigation Bureau (AAIB) and two officers from the Civil Aviation Authority of Singapore (CAAS) returned to Singapore Thursday morning after two weeks' assistance with Indonesian authorities, Channel NewsAsia reported.
Saying that the search was challenging, Chong Chow Wah, senior investigator and head of operation of AAIB added that strong currents and bad weather postponed the search work at first.
Jamie Chen, MPA deputy chief hydrographer attributed the search operation to team work. MPA acted as the "eyes" of the search operation, while AAIB acted as the "ears". "Chen told Channel NewsAsia.
Singapore has dispatched search and rescue professionals to join the search for the AirAsia flight that went missing on Dec. 28 last year on its way from Surabaya, Indonesia to Singapore.
The latest discovery is that a Singapore Navy vessel has found the main fuselage of the crashed plane Wednesday night, and Indonesian divers have already headed to the location on Thursday.
"It has been a very challenging and difficult deployment for them," said Transport Minister Lui Tuck Yew when he welcomed the team at Changi Airport, adding that Singaporeans are glad to do their small part.