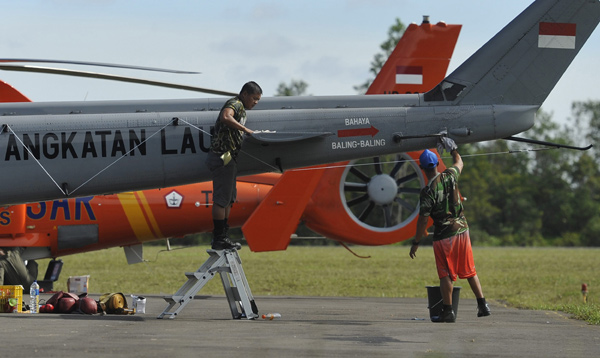 Indonesian soldiers clean the tail of a helicopter at Iskandar airbase in Pangkalan Bun, as recovery operations for the crashed AirAsia Flight QZ8501 continue January 13, 2015. [Photo/Agencies]
JAKARTA - Final results of investigation on the crashed AirAsia QZ8501 will be published at least one year later, an Indonesian official said in Jakarta on Tuesday.
"A final report containing all the results of the probe into the crash will be released one year later," Tatang Kurniadi, Chairman of Indonesian Transport Safety Committee, told a press conference in Pangkalan Bun city, central Kalimantan.
The formal investigation will commence after the release of a preliminary report, said Kurniadi, adding that the preliminary factual report, which has no analysis, will be released within one month.
Tatang Kurniadi said a draft of the final report will be delivered to countries including France, Singapore and United States for evaluation.