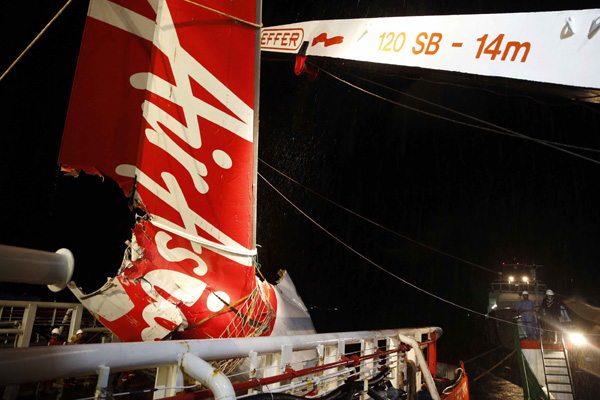 A section of the tail of AirAsia QZ8501 passenger plane is lifted off the deck of the ship Crest Onyx, the day after it was removed from the seabed, in Kumai Port, near Pangkalan Bun, central Kalimantan January 11, 2015. [Photo/Agencies]
JAKARTA - Indonesian searchers have spotted the second black box of the crashed AirAsia Flight QZ8501, according to the chief of National Transportation Safety Committee on Monday.
Based on pings from its emergency transmitter, the other black box, the cockpit voice recorder, has also been spotted by the search teams, but has not yet been retrieved from the sea floor, said Mardjono Siswosumarno.
"We will soon retrieve it," he was by quoted local media as saying.
Indonesian divers have retrieved the flight data recorder of the crashed flight in the Java Sea earlier this morning.
The flight data and cockpit voice recorders are crucial to helping determine the cause of the air crash. Initial investigations suggested that bad weather was a contributing factor.
Flight QZ8501, with 162 people aboard, went down in the Java Sea near the Karimata Strait en route from Surabaya to Singapore on Dec 28.