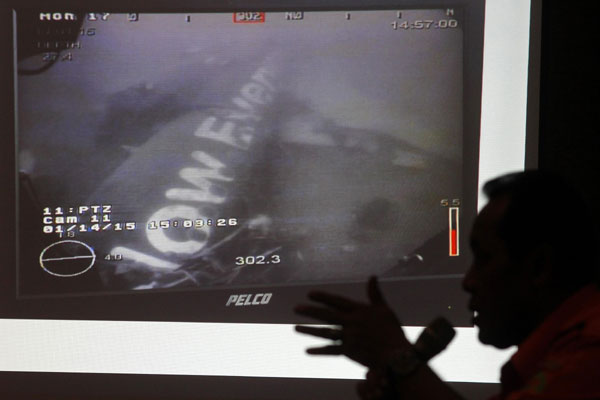 Head of the National Search and Rescue Agency Fransiskus Bambang Soelistyo is seen with an image believed to be of the fuselage of AirAsia Flight QZ8501, taken by an underwater ROV provided by the Singaporean Navy, during a news conference in Jakarta Jan 14, 2015.[Photo/Agencies]
JAKARTA/PANGKALAN BUN, Indonesia - A military vessel on Wednesday located the fuselage of the AirAsia passenger jet that crashed more than two weeks ago off the coast of Indonesia, raising hopes that more bodies will be found.
The fuselage, the part of the plane that holds pilots and passengers, was discovered around 3 kilometres from where the tail of the aircraft was retrieved last weekend at the bottom of the Java Sea, Indonesian officials said.
"A marker was placed on the engine. Beside the engine is the fuselage, the wing and a lot of debris," Ony Soeryo Wibowo, an investigator with the National Transportation Safety Committee, told Reuters.
Indonesia AirAsia Flight QZ8501 lost contact with air traffic control in bad weather on Dec. 28, less than halfway into a two-hour flight from the city of Surabaya to Singapore. All 162 people on board were killed.
So far 50 bodies have been plucked from the Java Sea, with most brought to Surabaya for identification. Searchers believe more bodies will be found in the plane's fuselage.
Divers will check the wreckage for bodies on Thursday, said Fransiskus Bambang Soelistyo, head of the National Search and Rescue Agency.
Indonesian investigators started examining on Wednesday the black box flight recorders recovered from the Airbus A320-200, and hope to unlock initial clues to the cause of the disaster within days.
Divers retrieved the flight data and cockpit voice recorders this week from the plane's sunken wreckage.
The recorders were lifted from the bottom of the Java Sea and sent to the capital, Jakarta, for analysis. Both were found to be in relatively good condition.
"In one week, I think we will be getting a reading," Mardjono Siswosuwarno, head investigator for the National Transportation Safety Committee (NTSC), told Reuters.