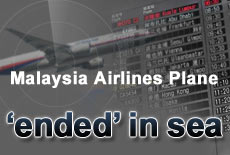 CANBERRA - The Australian Transport Safety Bureau (ATSB) confirmed with Xinhua on Sunday that the agency is working on analyzing existing data and information to refine a new search area for the missing Malaysian Airline flight MH370.
Chief Commissioner Martin Dolan said the new search area will be announced by ATSB on Wednesday.
Dolan told local media earlier that the new search area would be hundreds of km south of where the first phase of underwater search had covered.
Autonomous Underwater Vehicle Bluefin-21 had searched some 850 square km of ocean floor in an area some 1,600 km off the coast of Western Australia.
The area was defined on the basis of the four acoustic signals detected by the Towed Pinger Locator deployed on Australian Defense Vessel Ocean Shield.
Since Bluefin-21 had found neither the "black box" nor any debris of the aircraft after searching for more than 40 day, the Joint Agency of Coordination Center (JACC) for the search of the MH370 announced on May 29 that that area can be discounted as the final resting place of MH370, which disappeared on March 8 carrying 239 people.
Inmarsat, the British satellite telecommunications company,told BBC last week that their data had pointed to a "hotspot" - a crash zone of the highest probability - to the southwest of the recent undersea search.
Earlier this month, a commercial ship, Fugro Equator, joined Chinese ship Zhu Kezhen to conduct a bathymetric survey -- mapping of the sea floor -- on an arc area of 60,000 square km, which was defined based on seventh arc where the aircraft last communicated with satellite.
The survey is expected to take three months.
The ATSB has also invited organizations to submit proposals to conduct the underwater search through a request for tender process. Companies can hand in submissions by June 30, 2014.
The underwater search is expected to begin in August and may take 12 months to finish.