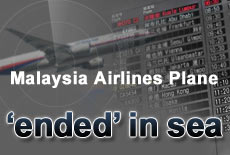 CANBERRA - A vessel contracted by the Australian government has joined Chinese efforts to map the sea floor ahead of the deep water search for the missing Malaysian airliner that is due to commence in August.
The Australian Transport Safety Bureau (ATSB) has contracted the Fugro Equator to join the Chinese navy ship Zhu Kezhen in surveying a defined search area of the south-west Indian Ocean.
The search area is based on new satellite data from Inmarsat, the London-based satellite communications company.
Under the direction of the bureau, the two vessels are conducting a bathymetric survey -- mapping of the sea floor -- which will be crucial to carrying out the deep water search for Malaysia Airlines Flight 370.
The survey will give search officials a better understanding of the ocean floor and help them choose the best search vessels.
The Zhu Kezhen had already surveyed 4,088 square kilometers of the ocean floor before being forced into port at Fremantle, just south of Perth in Western Australia, late last month for repairs to its multibeam echosounder.
It is due to resume operations in the search area shortly.
Officials anticipate it will take at least three months to complete the bathymetric survey of the 60,000 square kilometer search zone.
The ships will regularly send survey data to the ATSB and Geoscience Australia to build a map of the wider search area.
The revised search area will be confirmed before the end of June after extensive analysis of survey data by a range of specialists.
Provisional results of that analysis indicate the eventual search zone will move but remain on the seventh arc where the aircraft last communicated before losing contact on March 8 en route from Kuala Lumpur to Beijing with 239 passengers and crew on board.