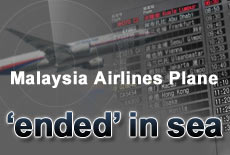 SYDNEY/KUALA LUMPUR - Australian officials leading the search for a missing Malaysia Airlines the southern Indian Ocean are weighing when to deploy an underwater robot to aid in the hunt, now in its sixth fruitless week.
Malaysia Airlines Flight MH370 disappeared soon after taking off on March 8 from Kuala Lumpur bound for Beijing with 227 passengers and 12 crew on board, triggering a multinational search that is now focused on the Indian Ocean.
Searchers are confident they know the approximate position of wreckage of the Boeing 777, some 1,550 km (963 miles) northwest of Perth, after picking up several acoustic signals they believe are from its black box recorders.
With the batteries on the locators now two weeks past their 30-day expected life, the focus may soon shift to trying to find wreckage using sonar and cameras on a small unmanned "robot" known as an Autonomous Underwater Vehicle (AUV).
Australia's Ocean Shield, towing a sophisticated U.S. Navy "towed pinger locator", and Britain's HMS Echo are still criss-crossing the zone where four signals or pings were picked up, but the last was almost a week ago.
"This work continues in an effort to narrow the underwater search area for when the Autonomous Underwater Vehicle is deployed," the Australian agency heading the search said in a statement on Sunday.
Up to a dozen planes and 15 ships will be searching in three separate areas on Monday, the furthest some 2,250 km (1,400 miles) from Perth, the agency added.
The AUV onboard the Ocean Shield, called a Blue-fin 21, could take months to scan and map the 600 sq km (230 sq miles) zone currently the focus of the acoustic search - an area the size of a medium city.
"Trying to locate anything 4.5 kilometres beneath the surface of the ocean about 1,000 kilometres from land is a massive, massive task and it is likely to continue for a long time to come," Australian Prime Minister Tony Abbott said at the weekend.
CO-PILOT CALL?
The mystery has sparked what is on track to be the most difficult and expensive search and recovery operation in aviation history.
An aircraft's black box records data from the cockpit and conversations among flight crew and may provide answers about what happened to the missing plane, which flew thousands of kilometres (miles) off course after taking off.
Malaysia is focusing its criminal investigation on the cabin crew and the pilots of the plane -- 53-year-old captain Zaharie Ahmad Shah and 27-year old Fariq Abdul Hamid -- after clearing all 227 passengers of any involvement, police have said.
Malaysia's acting Transport Minister Hishammuddin Hussein appeared to hose down a weekend report that investigators suspect that the co-pilot tried to make a call with his cellphone after the plane was diverted from its scheduled route.
Malaysia's government has also begun investigating civil aviation and military authorities to determine why opportunities to identify and track the flight were missed in the chaotic hours after it vanished.