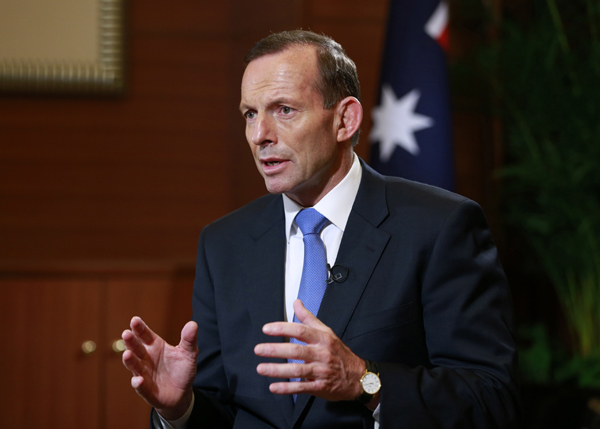 Australian Prime Minister Tony Abbott reacts duting an interview with CCTV anchorman Rui Chenggang on Saturday afternoon in Beijing. [Photo/Xinhua]
Rescuers are honing in on a narrowed area, Australian PM says
Australian Prime Minister Tony Abbott said on Saturday that the search zone for the missing Malaysian flight MH370 had been narrowed to a grid of 40 kilometers by 50 km.
In an interview with China Central Television anchorman Rui Chenggang on Saturday afternoon in Beijing, Abbott said the families of Chinese passengers on the missing flight are welcome to come to Australia.
"They will find themselves in the arms of welcoming friends," Abbott said, adding that providing a memorial service and building a suitable monument are also being proposed and discussed among the parties concerned.
Abbott, who was wrapping up his four-day visit to China, which started on Wednesday, said on several occasions that he was "very confident" the signals detected by the Australian navy vessel Ocean Shield were related to the missing plane.
"There have been numerous transmissions recorded which give us a high degree of confidence that this is the black box from the missing flight. Given that the signals are rapidly fading, what we are now doing is trying to get as many detections as we can so we can narrow the search area down to as small an area as possible," he told a news conference held in Beijing on Saturday morning.
Abbott said in the CCTV interview that Australia had by now detected numerous transmissions. Their length, number and frequency make him highly confident they can only be from MH370's black box recorder, he said.
In response to CCTV's question about what the coordinated efforts will be after the black box's signals finally disappear once the batteries run out, Abbott said they should be prepared to go underwater.
"We have deployed the best possible technology now," he said.
"When the battery completely dies, we will analyze the transmissions and finalize what we believe is the underwater search area and where to search with the submersible."
He said the submersible will first use sonar to scan the seabed and locate the wreckage, and then use underwater cameras to provide a visual image of the wreckage.
"We think we should be able to find the wreckage, should it be there," he said.
Abbott also warned that no one should underestimate the difficulties of the task ahead, calling it the most difficult task in human history.
"Success is far from certain," he said.
He added that trying to locate anything 4.5 km beneath the ocean's surface about 1,000 km from land is a massive task, and efforts are likely to continue for a long time.
The Australian leader pledged that his country will release information in a timely manner and cooperate with Malaysia, China and other concerned parties.
Four Chinese aircraft and five ships joined the multinational hunt for the missing plane, which disappeared on March 8 en route to Beijing from Kuala Lumpur with 239 people on board.
Malaysia's acting transport minister Hishammuddin Hussein said in Kuala Lumpur on Saturday that two officials from the Malaysian Department of Civil Aviation will be sent to the Joint Agency Coordination Center in Australia.
He said the two officials are Noor Izhar Baharin, the principal assistant director of the DCA and its office in charge of search-and-rescue and air safety, and Muhammad Irfan Ahmad Baidove, Kuala Lumpur Aeronautical Rescue Coordination Center's assistant director.
"This is important because JACC, as the body responsible for the (search-and-rescue) efforts, must have a direct contact with Kuala Lumpur," Hussein said.
Xinhua contributed to this story.
wanghui@chinadaily.com.cn