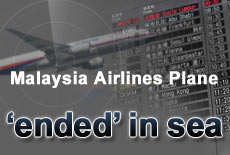 PERTH -- Australian Prime Minister Tony Abbott said on Saturday that the search zone for the missing Malaysian flight MH370 had been narrowed to a grid of 40 km by 50 km.
According to a local journalist who is familiar with the Abbott team, the leader updated a Chinese media the size of the refined search area after his press conference in Beijing.
Local media The Telegraph also confirmed the report.
Abbott, who just wrapped up his visit to China, told reporters in the past two days that he was highly "confident" the signals detected by Australian navy vessel Ocean Shield was related to the missing plane.
"While we have a high degree of confidence that the transmissions that we have been picking up are from flight MH370's black box recorder, no one should underestimate the difficulties of the task ahead of us," he told a press conference Saturday.
The Ocean Shield has already received four electronic transmissions possibly related to MH370 during the week, but no more pulse was detected since then.
MH370 disappeared on March 8 en route to Beijing from Kuala Lumpur, with 239 on board.