CANBERRA - An Australian P-3C Orion aircraft has returned to Perth after failing to locate objects possibly related to a missing Malaysia Airlines plane, Australian Maritime Safety Authority (AMSA) said on Thursday.
"P3 crew unable to locate debris" due to cloud and rain, which limited visibility, AMSA said through its Twitter account, adding that further aircraft will continue search for flight MH370.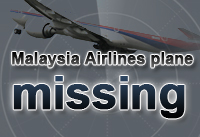 Dimensions of the Boeing 777-200ER
Wing span: 60.9 metres
Overall length: 63.7 metres
Tail height: 18.5 metres
Fuselage diameter: 6.19 metres
A New Zealand Royal Air Force Orion has yet to return from the search for the suspicious objects, sources told Xinhua, adding that no relevant findings have been made by the three aircraft which have returned including a U.S. Navy Poseidon and two Royal Australian Air Force (RAAF) Orion.
The Australian government said earlier Thursday that they had spotted on satellite images two objects possibly related to the missing plane in the southern Indian Ocean, approximately 2,500 km southwest of Australian port city of Perth.
An AMSA staff member told Xinhua that it might take days before rescuers can finally confirm whether the suspicious objects belong to the missing plane.
Australian Prime Minister Tony Abbott told parliament "new and credible information" had come to light in the search for MH370.
Abbott said he had informed Malaysian Prime Minister Najib Razak of the developments. But he warned against drawing any premature conclusions on the search.
"We must keep in mind the task of locating these objects will be extremely difficult and it may turn out that they are not related to the search for flight MH370," Abbott said.
The source who refused to be named told Xinhua that experts studying the satellite images held that the objects are "very unlikely to be something else".
The position where they were spotted by the satellite are only about 100 nautical miles from one of the routes which had been established by the United States National Transportation Safety Board based on the analysis of the missing aircraft's speed and fuel reserves.
Flight MH370 operated on a Boeing 777-200 aircraft with 239 people on board has gone missing since it lost contact with air controllers en route from Malaysian capital of Kuala Lumpur to Beijing on March 8.
Malaysian Prime Minister Najib Razak said that the missing jetliner was deliberately diverted from its original course to one of two possible directions, including a northern corridor stretching approximately from the border of Kazakhstan and Turkmenistan to northern Thailand as well as a southern one estimated from Indonesia to the southern Indian Ocean.