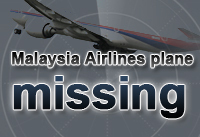 Passengers' and their nationalities:
Chinese 154 
Malaysia 38
India 5
Indonesia 7
Australia 6
France 4
USA 3 
New Zealand 2
Ukraine 2
Canada 2
Russian 1
Italy 1
Netherlands 1
Austrian 1
KUALA LUMPUR -- Malaysia will expand its search and rescue for the missing aircraft, acting Minister of Transport Hishamuddin Hussein said here Friday.
"The aircraft is still missing, and the search area is expanding," he told a press conference near Kuala Lumpur International Airport (KLIA), adding "we are now pushing further into the South China Sea, and further into Indian Sea."
Hussein said there are currently 57 ships and 48 aircraft in the search, which involves 13 countries. "Our priority remains finding the plane," he added.
Concerning earlier reports that some unnamed US officials suggested the plane might have traveled for some time after losing contact, Hussein said that as a standard procedure, the investigation teams including those from the US, will not release information until it has been properly verified and corroborated with the relevant authorities.
On Thursday, two oil slicks were sighted in the South China Sea, about 110 km south of the spot where the missing MH370 made last contact. Later investigation proved these clicks were not linked to the plane, said the minister.
Flight MH370, a Boeing 777-200ER, went missing on its way to Beijing last Saturday morning shortly after taking off from Kuala Lumpur. The plane was carrying 12 crew members and 227 passengers, including 154 Chinese.