Latest: Indonesian TV shows footage of objects in water, possibly part of missing AirAsia jet, Reuters reported. Items resembling emergency slide, plane door seen in search for the missing flight, AFP said on Twitter.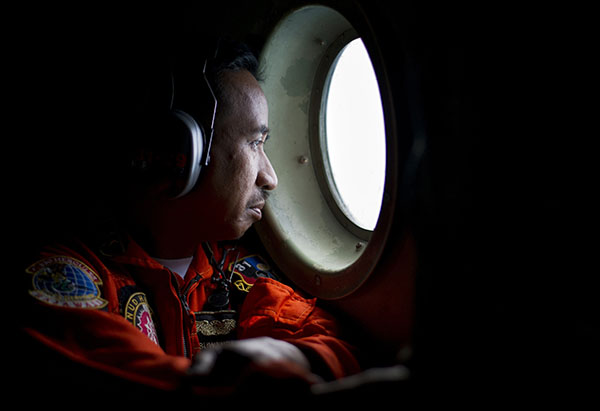 A member of an Indonesian Hercules C130 aircrew watches through a window while monitoring the Belitung Timur sea during search operations for AirAsia flight QZ8501 near Belitung island, December 29, 2014 in this photo taken by Antara Foto. [Photo/Agencies]
JAKARTA - Smoke was reportedly seen rising from an island in the Java Sea as Indonesia decided to expand the search for a missing AirAsia passenger plane, a chief rescuer said on Tuesday.
Local media in Indonesia reported on Tuesday that the smoke was spotted on Long island, one of the thousands that make up the Indonesian archipelago, on Sunday when flight QZ8501 with 162 people aboard went missing en route to Singapore.
The Indonesian authorities had sent two planes to the area to check the latest finding.
Bambang Sulistyo, head of the National Search and Rescue Agency, said the search would be expanded to land areas with helicopters beginning to comb land on Kalimantan island as well as islands in the area.
The number of areas to be scoured was increasing to 13 from seven, covering some 60,000 square nautical miles, he said.
So far the search has been focused on the Java Sea between the islands of Sumatra and Borneo.
With regard to an oil slick discovered off Belitung island on Monday, the agency chief said it was only fuel of a sailor boat.
The search operation resumed at 6:00 a.m. local time Tuesday ( 2300 GMT Monday) as more countries sent planes and ships to join the hunt.
A US ship equipped with sonar device would arrive on Tuesday or Wednesday, said Sulistyo.
"It depends on their readiness. One US ship docking in Singapore plans to help us. The ship has a sonar system," he told a press conference at Jakarta airport.
Besides the ship, Sulistyo said, two US helicopters would also be deployed in the area.
On Tuesday, the searchers would check a lead given by two sailors who claimed they heard a loud noise and saw a plane flying low on the day when the AirAsia jetliner vanished.
"We will follow up the information from the sailors. This is part of our focuses on our operation Tuesday," he said.
The chief rescuer confirmed that China and South Korea would take part in the operation soon.
The Airbus A320-200 disappeared from the radar screen 42 minutes after it took off from Surabaya in Indonesia's East Java province on Sunday.