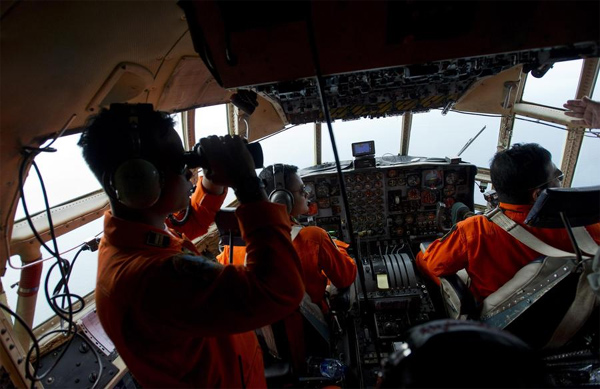 Airforce soldiers onboard a Hercules C130 stand monitor the Belitung Timur sea during search operations for AirAsia flight QZ8501 near Belitung island, December 29, 2014. [Photo/Agencies]
SYDNEY - An Australian aviation expert said on Tuesday human error undoubtedly led to the disappearance of AirAsia flight QZ8501 after the pilots flew directly into a well- known danger zone above the Java Sea.
Expert Neil Hansford said that either the Indonesian captain or the French first officer plotted a dangerous flight plan.
He said veteran pilots avoided the area where the plane is believed to have gone down and would not fly through it.
"They call it 'the thunderstorm factory,'" Hansford told the Nine Network.
"You plan to go around it. You don't plan to go through it."
He said whoever plotted the flight plan made a fatal error.
"Whoever did the flight plan - now we don't know whether it was the French first officer or the captain himself," Hansford said.
"Whether they read the meteorology right they were given in Surubaya who dropped the ball? And how well did they communicate? One whose basic language is Bahasa, and the other guy 's basic language is in French.
"How good is their common English between the two of them?"
He concluded by emphatically saying it was pilot error.
"I've said all along it was never going to be engineering," Hansford said.