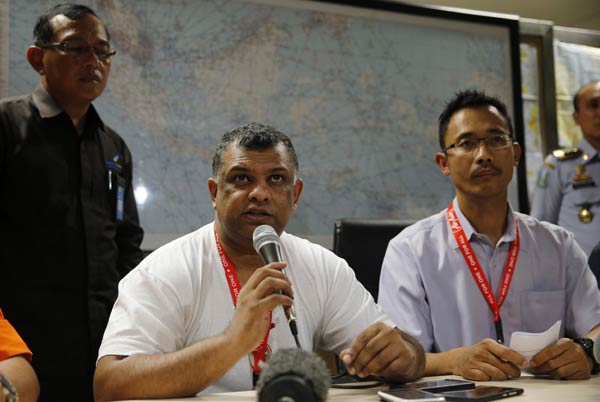 Air Asia CEO Tony Fernandes (L) sits beside Indonesia Air Asia CEO Sunu Widyatmoko (R) as they hold a news conference at Surabaya's Juanda International Airport December 28, 2014.[Photo/Agencies]
KUALA LUMPUR -- AirAsia said Sunday night in a statement that its management have met with members of the families of those onboard the missing flight QZ8501 to update them on the latest developments and reconfirmed their commitment to offering assistance.
"We are deeply shocked and saddened by this incident. We are cooperating with the relevant authorities to the fullest extent to determine the cause of this incident. In the meantime, our main priority is keeping the families of our passengers and colleagues informed on the latest developments," Sunu Widyatmoko, CEO of AirAsia Indonesia said.
He also said the airline has already mobilized a support team to help take care of the needs of the families, including accommodation and travel arrangements. "A briefing center has also been set up in Surabaya for the families," he added.
He said an emergency briefing room also set up in Singapore's Changi International Airport Terminal Two to offer regular updates.
The statement said the captain in command of the missing plane had a total of 20,537 flying hours of which, 6,100 flying hours were with AirAsia Indonesia on the Airbus A320. The first office officer had a total of 2,275 flying hours with AirAsia Indonesia.