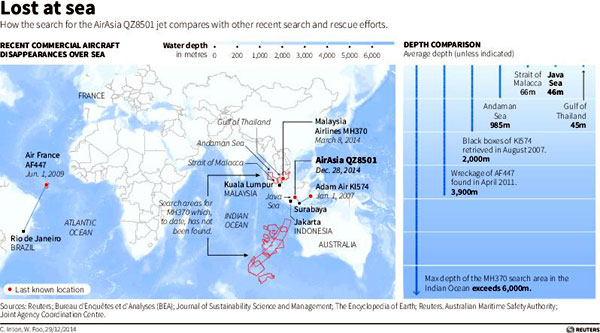 Map comparing the AirAsia Qz850i search area to recent search and rescue efforts for aircraft that disappeared over sea.[Photo/Agencies]
SURABAYA, Indonesia  - More planes will be in the air and more ships on the sea Tuesday hunting for AirAsia Flight 8501 in a widening search off Indonesia that has dragged into a third day without any solid leads.
At least 30 ships, 15 aircraft and seven helicopters were looking for the jet carrying 162 people, said Indonesia's Search and Rescue Agency chief Henry Bambang Soelistyo. Most of the craft were Indonesian but Singapore, Malaysia and Australia contributed to the effort. Aircraft from Thailand planned to join Tuesday's search.
He said the search area would be expanded to land areas, with four military helicopters dispatched just after sunrise near Pangkalan Bun on the western part of Borneo island and to smaller islands of Bangka and Belitung.
"Until now, we have not yet found any signal or indication of the plane's whereabouts," Soelistyo told The Associated Press, adding fishermen from Belitung island were also helping.
The US Navy is also joining the search. It said in a statement that the USS Sampson, a destroyer, which was already on an independent deployment in the Western Pacific, and will arrive in the area later Tuesday.
The longer the search goes without turning up any wreckage or hint of what happened to plane, the more the incident will evoke memories of the still-unexplained disappearance of Malaysia Airlines Flight 370 in March.
The AirAsia pilots had been worried about the weather and had sought permission to climb above threatening clouds. Air traffic control couldn't say yes immediately _ there was no room. Six other airliners were crowding the airspace, forcing Flight 8501 to remain at a lower altitude.
Minutes later, the jet was gone from the radar without issuing a distress signal. The plane is believed to have crashed into Indonesia's Java Sea, but broad aerial surveys so far have turned up no firm evidence of the missing Airbus A320-200.
On Monday, searchers spotted two oily patches and floating objects in separate locations, but it was not known any of it was related to the plane that vanished Sunday halfway into what should have been a two-hour hop from Surabaya, Indonesia, to Singapore. The area is a busy shipping lane. Officials saw little reason to believe the flight met anything but a grim fate.