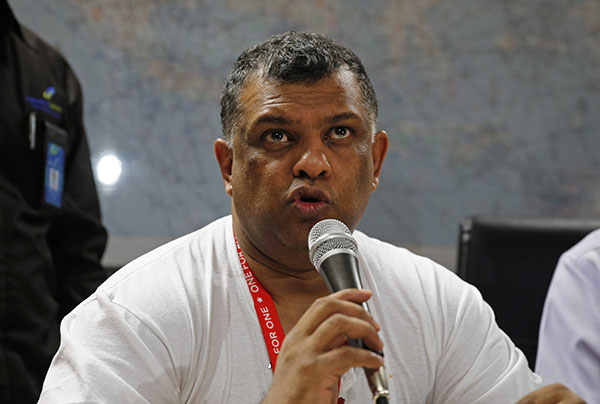 AirAsia CEO Tony Fernandes speaks at a news conference at the Juanda International Airport, Surabaya December 28, 2014. Indonesia's air force was searching for AirAsia Flight QZ8501 carrying 162 people that went missing on Sunday after the pilots asked to change course to avoid bad weather during a flight from the Indonesian city of Surabaya to Singapore. The Airbus 320-200 lost contact with Jakarta air traffic control at 6:17 am. [Photo/Agencies] 
NEW YORK - Tony Fernandes is more than just the CEO of AirAsia: He's the brash personality and cheerleader-like figure who gives the discount carrier its soul.
A flamboyant executive who loves race cars and soccer - and is known for speaking his mind, sometimes inappropriately - Fernandes has opened air travel to millions who previously couldn't afford it.
Now, with one of his planes and 162 people onboard missing, Fernandes faces what he's calling his worst nightmare.
"We will go through this terrible ordeal together," he told his staff via Twitter hours after Flight 8501 disappeared Sunday.
"Be strong," he said in another message. "Continue to be the best. Pray hard."
In an age when many corporate leaders are insulated from their customers and staff, the Malaysian-born, British-educated Fernandes is a vocal leader who enjoys interacting with the public, at airports and on social media. AirAsia passengers often tweet him photos of their vacations, which Fernandes then shares with his followers.
He's posed for photos with Filipino boxer Manny Pacquiao and hosted Asia's version of the reality TV show "The Apprentice." And he has a personal credo: "Believe the unbelievable. Dream the impossible. Never take no for an answer."
Fernandes' reach extends well beyond airlines. In 2011, he bought a majority stake in the English Premier League club Queens Park Rangers. He is often seen in the soccer team's blue-and-white jersey, which bears AirAsia's name in bold red across the front.
He also has funded a Formula One racing team, making lavish bets with owners of competing teams.
But his heart remains in travel.