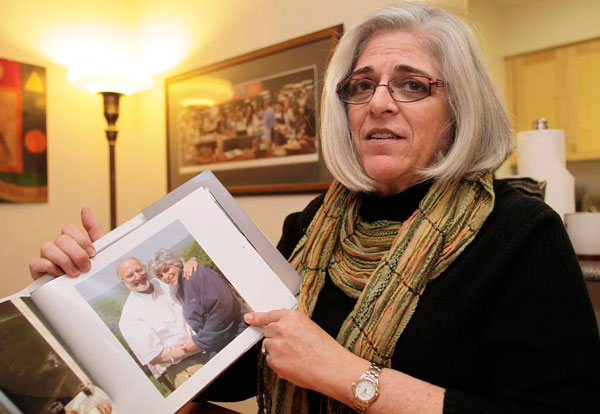 Judy Gross, wife of US aid contractor Alan Gross who is jailed in Cuba, shows their family picture during an interview with Reuters at her apartment in Washington in this file image from Oct 23, 2010. Cuba has released American aid worker Alan Gross after five years in prison, a US official said on Dec 17, 2014. [Photo/Agencies]
Spy released by Cuba provided key info
Obama says the US spy Cuba is releasing is one of the most important intelligence agents the US has ever had in Cuba.
Obama discussed his administration's move Wednesday to restore diplomatic relations with Cuba. Cuba is releasing the spy as part of that effort.
Obama says the man's sacrifice is known only to a few people. But he says the spy provided the information that allowed the US to arrest Cuban agents, including three spies the US is now releasing as part of the deal.
Obama says the US spy is now safely on American soil.
US officials have said the spy is a non-American and that his identity remains secret. Cuba has also released American prisoner Alan Gross.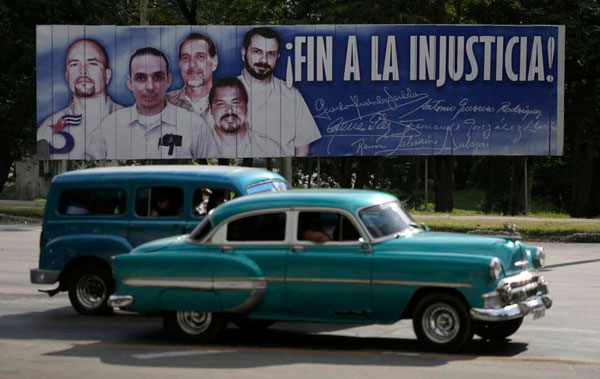 Cars drive past a banner featuring five Cuban prisoners held in US custody, two of whom were previously released, in Havana, Dec 17, 2014. [Photo/Agencies]
Cuban intelligence agents transferred to Cuba
Three former Cuban intelligence agents have been transferred to Cuba after US President Barack Obama decided to commute their sentences, a Department of Justice spokesman said on Wednesday.
Luis Medina, Gerardo Hernandez, and Antonio Guerrero had been released from custody, spokesman Brian Fallon said in a statement.
"Their transfer to Cuba is complete, and was carried out without incident by the US Marshals Service," he said.