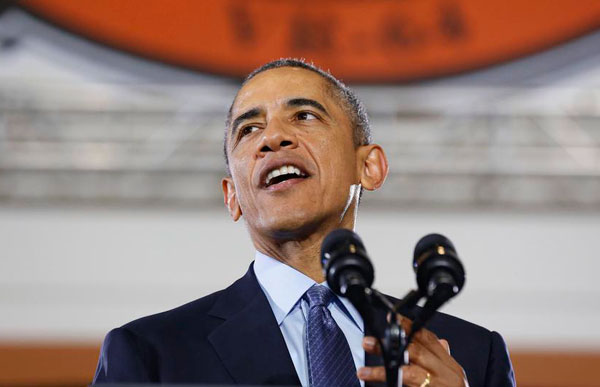 US President Barack Obama speaks at Joint Base McGuire-Dix-Lakehurst in New Jersey, December 15, 2014. [Photo/Agencies]
WASHINGTON - US President Barack Obama announced the re-establishment of diplomatic relations as well as an easing in economic and travel restrictions on Cuba Wednesday, declaring an end to America's "outdated approach" to the communist island in a historic shift that aims to bring an end to a half-century of Cold War enmity.
"Isolation has not worked," Obama said in remarks from the White House. "It's time for a new approach."
As Obama spoke, Cuban President Raul Castro addressed his own nation from Havana. Obama and Castro spoke by phone for more than 45 minutes Tuesday, the first substantive presidential-level discussion between the US and Cuba since 1961.
Obama's announcement marked an abrupt use of executive power. However, he cannot unilaterally end the longstanding US economic embargo on Cuba, which was passed by Congress and would require action from lawmakers to overturn.
Wednesday's announcements followed more than a year of secret talks between the US and Cuba. The re-establishment of diplomatic ties was accompanied by Cuba's release of American Alan Gross and the swap of a US spy held in Cuba for three Cubans jailed in Florida.
Obama said Gross' five-year imprisonment had been a "major obstacle" in normalizing relations. Gross arrived at an American military base just outside Washington Wednesday, accompanied by his wife and a handful of US lawmakers. He went immediately into a meeting with Secretary of State John Kerry.
As part of resuming diplomatic relations with Cuba, the US will soon reopen an embassy in the capital of Havana and carry out high-level exchanges and visits between the governments. The US is also easing travel bans to Cuba, including for family visits, official US government business and educational activities. Tourist travel remains banned.
Licensed American travelers to Cuba will now be able to return to the US with $400 in Cuban goods, including tobacco and alcohol products worth less than $100 combined. This means the long-standing ban on importing Cuban cigars is over, although there are still limits.
The US is also increasing the amount of money Americans can send to Cubans from $500 to $2,000 every three months. Early in his presidency, Obama allowed unlimited family visits by Cuban-Americans and removed a $1,200 annual cap on remittances. Kerry is also launching a review of Cuba's designation as a state sponsor of terror.
Differences should be solved by 'negotiation': Raul Castro
Cuban President Raul Castro said in a televised speech Wednesday that differences between the United States and Cuba should be solved by "negotiation," stressing Cuba will defend its main principles.
The move was believed to signal a thaw in relations between Cuba and the United States.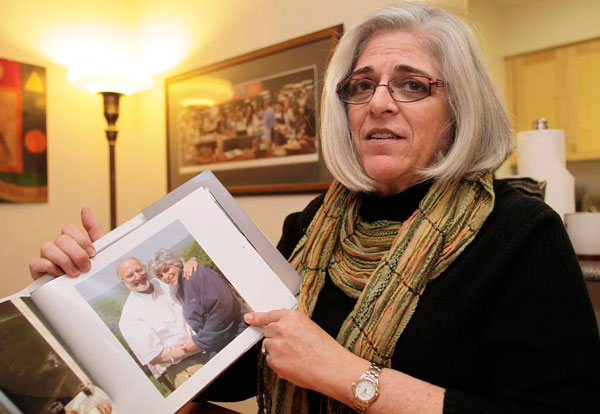 Judy Gross, wife of US aid contractor Alan Gross who is jailed in Cuba, shows their family picture during an interview with Reuters at her apartment in Washington in this file image from Oct 23, 2010. Cuba has released American aid worker Alan Gross after five years in prison, a US official said on Dec 17, 2014. [Photo/Agencies]
Spy released by Cuba provided key info
Obama says the US spy Cuba is releasing is one of the most important intelligence agents the US has ever had in Cuba.
Obama discussed his administration's move Wednesday to restore diplomatic relations with Cuba. Cuba is releasing the spy as part of that effort.
Obama says the man's sacrifice is known only to a few people. But he says the spy provided the information that allowed the US to arrest Cuban agents, including three spies the US is now releasing as part of the deal.
Obama says the US spy is now safely on American soil.
US officials have said the spy is a non-American and that his identity remains secret. Cuba has also released American prisoner Alan Gross.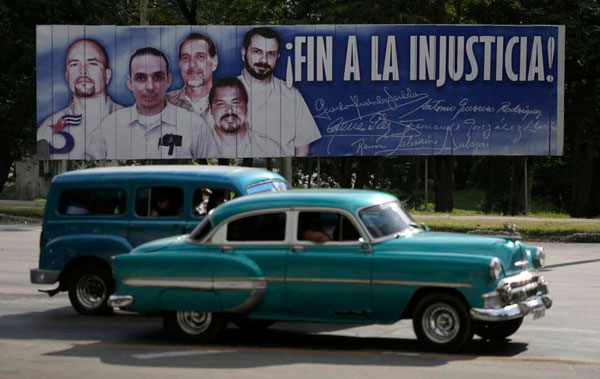 Cars drive past a banner featuring five Cuban prisoners held in US custody, two of whom were previously released, in Havana, Dec 17, 2014. [Photo/Agencies]
Cuban intelligence agents transferred to Cuba
Three former Cuban intelligence agents have been transferred to Cuba after US President Barack Obama decided to commute their sentences, a Department of Justice spokesman said on Wednesday.
Luis Medina, Gerardo Hernandez, and Antonio Guerrero had been released from custody, spokesman Brian Fallon said in a statement.
"Their transfer to Cuba is complete, and was carried out without incident by the US Marshals Service," he said.