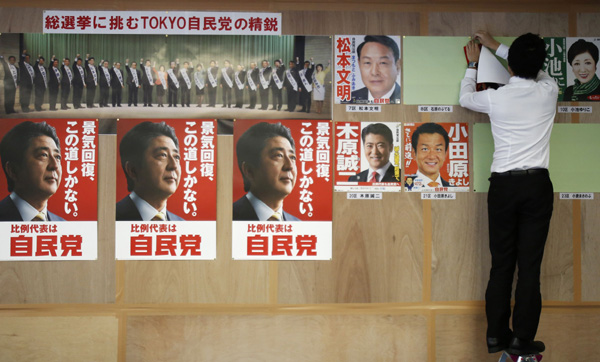 A staff member of Japan's ruling Liberal Democratic Party (LDP) puts up posters of election candidates on a wall next to campaign posters of Japan's Prime Minister Shinzo Abe, who is also leader of the LDP, during the official campaign kick-off day for the December 14 lower house election, at the LDP regional election office in Tokyo December 2, 2014. [Photo/Agencies]
TOKYO - Japanese Prime Minister Shinzo Abe's Liberal Democratic Party (LDP) was in the lead in the latest polls that showed Thursday the party may win over 300 seats in the Dec 14 election for the parliament's lower house.
A survey conducted by Japan's Kyodo News released Thursday said the LDP would possibly secure 300 positions in the 475-seat chamber, a number far higher that Abe's minimum goal of a combined 238 seats with the LDP's small partner the Komeito party.
The Kyodo poll, which covered over 150,000 randomly selected households with eligible voters and received 121,762 valid answers during Tuesday and Wednesday, showed that the main opposition Democratic Party of Japan (DPJ) was estimated to win around 70 seats, up from 59 before the dissolution of the chamber but below its target of 100.
However, the poll also said that about 53.5 percent of respondents have not yet decided which party they will vote for in single-seat constituencies, and 45.5 percent remained undecided on which party to vote for in the proportional representation section.
Meanwhile, according to a separated poll by the Asahi Shimbun, the LDP-Komeito coalition would secure over 317 seats in the election, meaning if the forecast came true, the bloc will dominate both lower and upper houses in the parliament and could pass any bills they want.
Both surveys showed that other opposition parties would struggle for maintaining their seats, while the Japanese Communist Party may see a rise in its members in the lower house.
The Kyodo poll said that a total of 67.1 percent showed their interest in the Dec. 14 vote"very much" or"to a certain degree," compared with 79.5 percent at the time of the previous lower house election in December 2012.
However, the media polls may showed a twisted situation here as a recent Kyodo poll said that the disapproval rate for Abe's cabinet surpassed its support rate for first time at 47.3 percent, versus 43.6 percent of approval.
The poll conducted last week also said 53.0 percent hope the election brings about a more balanced distribution of seats between the ruling and opposition parties, up 1.6 points from the previous survey.