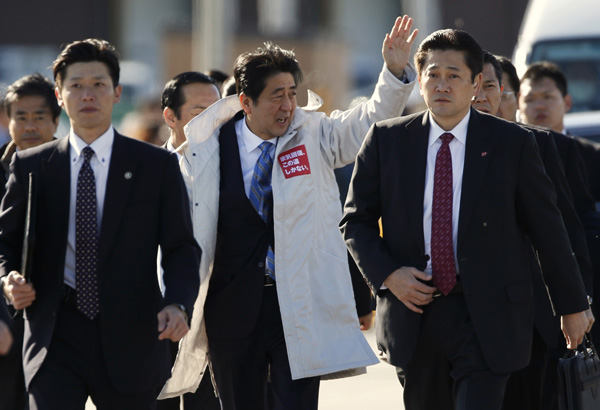 Japan's Prime Minister Shinzo Abe (C), who is also leader of the ruling Liberal Democratic Party (LDP), is surrounded by security agents as he waves to voters during his official campaign kick-off for the December 14 lower house election, at the Soma Haragama fishing port in Soma, Fukushima prefecture, December 2, 2014. [Photo/Agencies]
TOKYO - The 12-day campaign period for the House of Representatives election of Japan started officially Tuesday, with Prime Minister Shinzo Abe's economic policies and other polices to be tested.
Candidates will vie for the 295 seats available in single-seat constituencies and the 180 seats in proportional representation constituencies. More than 1,180 people are expected to file their candidacies, according to figures compiled by Japan's Kyodo News Agency as of early Tuesday.
Abe said the previous day in the party chiefs debate that the victory line of this election is winning a majority in the lower house, which means his ruling Liberal Democratic Party (LDP) and its junior coalition partner New Komeito win at least 238 seats. The LDP held 295 of the 480 seats in the House of Representatives before it was dissolved two weeks ago.
Opposition parties such as the Democratic Party of Japan, the Japanese Communist Party and the Social Democratic Party, on the other hand said they will try to stop one-party dominance by the LDP.
Abe dissolved the House of Representatives on Nov 21 and called a snap election, which is widely seen as an attempt by Abe to shore up support for his government after a series of finance- related scandals hit his newly named Cabinet this fall.