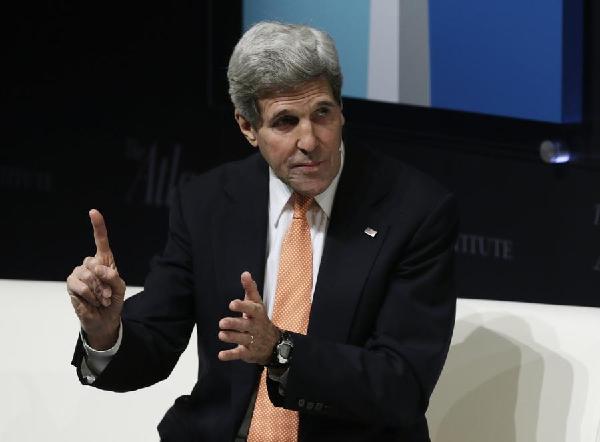 US Secretary of State John Kerry gestures at the Washington Ideas Forum presented by the Aspen Institute and the Atlantic in Washington October 30, 2014. [Photo/Agencies]
WASHINGTON - Describing the US-China relationship as "the most consequential" in the world, US Secretary of State John Kerry on Tuesday called for greater cooperation between the two powers on tackling major challenges facing today's world.
Ahead of his visit to Beijing to attend the Asia-Pacific Economic Cooperation (APEC) meetings and accompany President Barack Obama on his Nov 10-12 visit to China, Kerry made a speech on the US-China ties at the Paul H. Nitze School of Advanced International Studies at the Johns Hopkins University.
"The US-China relationship is the most consequential in the world today, period, and it will do much to determine the shape of the 21st century," Kerry said. "That means we have to get it right. "
The top US diplomat stressed that the Obama administration has been and will be committed to advancing what he called "a principled and productive relationship with China."
He said vast potential exists for strengthening the US-China cooperation on major issues. "As two of the world's major powers and largest economies, we have a profound opportunity to set a constructive course on any number of issues, from climate change to global trade, and obviously, we have a fundamental interest in doing so," Kerry said.
"For that reason, our relationship has to be carefully managed and guided not by news hooks and grand gestures, but by a long- term strategic vision, by hard work, by good diplomacy, and by good relationships," he added.
Kerry said the US-China ties were no longer just centered on a relatively narrow set of bilateral and regional matters, but are now focused on collaborating to tackle some of the most complex global challenges that the world has ever seen.
"And we're able to do that because together our nations are working closely in order to avoid the historic pitfall of strategic rivalry between an emerging power and an existing power. Instead, we're focused on the steps that we need to ensure that we not only coexist, but that we cooperate," he said.
The US policy toward China, Kerry said, is built on two pillars: constructively managing their differences and having constructive coordination on dealing with issues where both countries' interests are aligned.
He praised the US-China productive cooperation on tackling major challenges in the world, including climate change, economic development, anti-nuclear proliferation, counterterrorism, Afghanistan's reconstruction, and containing the spread of Ebola epidemic.
He particularly elaborated on the need and importance of the US cooperation with China on dealing with the climate change, which he called as "not just an environmental threat but an economic threat, a security threat, a health threat, and a security threat."
The United States and China have been in constant discussions aimed at ensuring that the global community can do everything possible to reach "a successful, ambitious climate agreement" at next year's UN Climate Change Conference in Paris.
Despite the progress made and their close cooperation on many issues, the US-China ties are not free from disputes, Kerry said, citing divergences over issues including the territorial disputes in Asia, cyber security, and human rights.
"Our differences will undoubtedly continue to test the relationship ... But they should not, and in fact, must not prevent us from acting cooperatively in other areas," Kerry stressed.
He called for more efforts to increase mutual cooperation on dealing with global challenges. "The fact is that among the major threats and crises that face the world today, there really isn't one that couldn't be addressed more effectively with expanded US- China cooperation," he said.
"I hope that the United States and China -- who are both blessed with great strength, with ample resources, with extraordinary people -- can do important things now and can do them together," he said at the end of his speech.