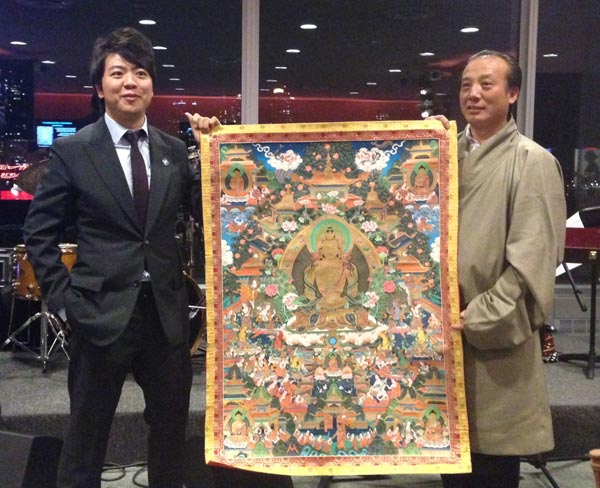 Chinese pianist Lang Lang (left) holds a painting, titled The Paradise of Amitayus, with artist Biang Ben for the auction of the painting, which is worth $100,000, at a fundraising event for Lang Lang's foundation in New York on Friday. Zhang Yuwei / China Daily 
After Chinese pianist Lang Lang performed for the 69th anniversary of the United Nations in New York last Friday, the world-renowned artist held a fundraising event that night at UN headquarters for his foundation that aims to help young music lovers.
The 32-year-old artist hosted some 100 guests, including Sandy Weill, American philanthropist and a former chief executive and chairman of Citigroup, at the UN and raised $1.15 million for his foundation.
"It could be better," said the pianist. "But exceeding $1 million is not too bad."
Public figures including some billionaires in China have emerged to participate in different philanthropic activities in recent years, giving out money to charitable functions.

"The more supporters — like us — who are involved in helping those who are in need, the easier it gets to push this mission forward," Lang Lang said of philanthropic practices in China.
Lu Yong, author of a new book Fundraising for a Cause, said participating in philanthropic initiatives is a "logical step" for many Chinese business people because it serves as a new way to raise their social profile.
"As more Chinese people are getting rich, philanthropic awareness is shared among the rich Chinese who are looking for a different social recognition through charitable donations," said Lu.
A recent report by Swiss bank UBS and Singapore-based consulting firm Wealth-X showed that China, which has 190 billionaires, is second only to the United States, which has 571 and the largest number of billionaires in the world.
In September, Harvard University received a $350 million donation from Hong Kong-based real estate billionaires Ronnie and Gerald Chan. The donation was for Harvard's School of Public Health and was Harvard's largest donation in its history.
And in July, Chinese real estate tycoon Pan Shiyi and his wife Zhang Xin — both of whom have appeared on Forbes China Rich List — gave a $15 million donation to Harvard for scholarships to underprivileged Chinese students.
Pan and Zhang's donation, however, wasn't regarded as a fully positive gesture, especially in China, with some questioning why the rich business couple chose to donate to a foreign university instead of helping out underprivileged students at home.
Lu believes the immature non-profit system in China, or the lack of philanthropic practices there, is one of the reasons why some Chinese would donate money elsewhere rather than in China.
"This could be a concern for them because they have no idea if the money they donate would be put in the place they want it to be," said Lu, who was one of the consultants for the founding of the Schwarzman Scholars, the international scholarship program at Tsinghua University in Beijing.
Schwarzman Scholars, to be launched next year, upon completion of Schwarzman College at Tsinghua University, was founded by American financier Stephen A. Schwarzman, founder of US asset management firm Blackstone Group.
"This program could be a good showcase of how the US and China can work together on education-related philanthropic initiatives," said Lu, adding that the non-profit system has made progress in China in recent years with the support of the government but more needs to be done.
Eugene R. Tempel, the founding dean of the Indiana University Lilly Family School of Philanthropy, which is the world's first school devoted to teaching philanthropy, said international partnerships between universities in China and in the US are a key part of this process.
"Anything that philanthropy does to improve higher education or make it more accessible enhances human potential," said Tempel. "The fastest way to enhance a person's life, and the best way for society to strengthen itself is through education."
Pan and Zhang made the Harvard donation through their SOHO China Foundation, which was founded by the couple in 2005, saying their foundation aims to donate a total of $100 million in the future, with Harvard being only a first recipient.
"These types of gifts do raise the donor's profile, but the focus should be on what are they trying to accomplish and how are they meeting needs," said Tempel.
While more Chinese rich people are involved in philanthropic events, many think it could be something they do to catch up with Western billionaires such as Bill Gates and Warren Buffett.
Tempel, however, said there is no "catching up" concept between China and the West when it comes to philanthropy.
"Philanthropy exists in many forms in all cultures, societies and nations — in some it is more formalized or institutionalized, while in others it is more subtle or informal," said Tempel.
"As the Chinese are now trying to develop a new, more formalized philanthropy, they have a wonderful opportunity to define philanthropy in new and innovative ways that fit with their culture," he added.
Anke Schrader, a researcher at the China Center with the Conference Board, a global independent business-membership research group, echoes Tempel's point.
"There is no general so-called 'Western style'of philanthropy, as historical events and political systems, especially social security systems, have shaped very different forms of civil society engagement in the West," said Schrader.
Contact the writer at yuweizhang@chinadailyusa.com.