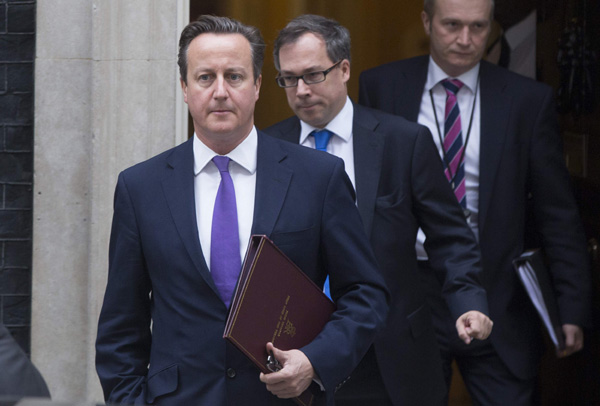 Britain's Prime Minister David Cameron leaves Downing Street for the House of Commons, in central London September 26, 2014. [Photo/Agencies]
LONDON - Prime Minister David Cameron made an impassioned plea Friday for Britain to join the United States and a coalition of Western and Arab nations in airstrikes meant to thwart Islamic State group militants in Iraq.
Cameron told a tense House of Commons that there was no more serious issue than asking the country to devote armed forces to conflict. He repeatedly stressed that no combat troops were planned, but he could barely get through his statement, as lawmakers peppered him with questions about the move.
"I believe it is our duty to take part," he said. "This international operation is about protecting our people, too, and protecting the streets of Britain should not be a task that we are prepared to entirely subcontract to other air forces of other countries."
Lawmakers are expected to approve the motion, which is supported by all three main parties and comes only days after Iraq's prime minister requested help.
The motion does not address any action in Syria. Critics say that would be illegal because Syrian President Bashar Assad has not invited outsiders to help.
Foreign Secretary Philip Hammond refused to speculate Friday on how long the military campaign could last, but lawmakers envision a long-term action.
"We are going into this with our eyes open," Hammond told Sky News, adding that the Islamic State group is a threat to national security.
Denmark and Belgium are considering Friday whether to join the coalition.