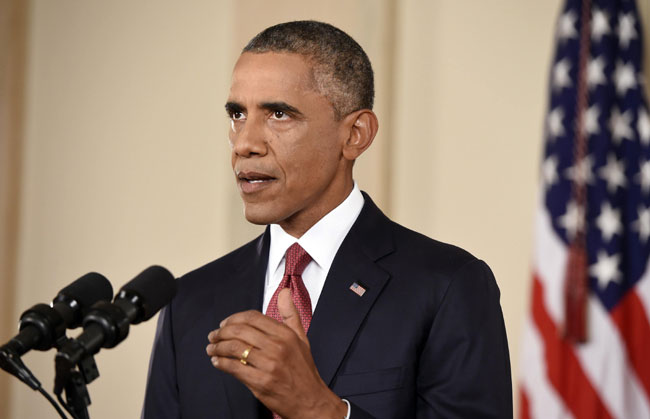 US President Barack Obama delivers a live televised address to the nation on his plans for military action against the Islamic State, from the Cross Hall of the White House in Washington September 10, 2014. [Photo/Agencies]
WASHINGTON - US officials said Monday the United States has taken the first step in its planned expanded fight against Islamic State militants, going to the aid of Iraqi security forces near Baghdad who were being attacked by enemy fighters.
The US Central Command said it conducted two airstrikes Sunday and Monday in support of the Iraqi forces near Sinjar and southwest of Baghdad.
The strikes represent the newly broadened mission authorized by President Barack Obama to go on the offensive against the Islamic State group wherever it is. Previous US airstrikes in Iraq were conducted to protect US interests and personnel, assist Iraqi refugees and secure critical infrastructure. These strikes were in direct support of Iraqi forces fighting the militants.
Central Command said the strikes destroyed six Islamic State vehicles and one of the group's fighting positions that was firing on the Iraqi security forces.
US officials said the Iraqi forces requested assistance when they came under fire from militants. Those officials spoke on condition of anonymity because they were not authorized to discuss the mission publicly by name.