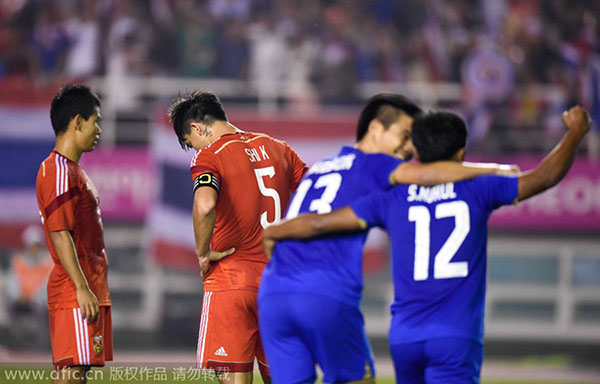 China's U-23 players react next to their winning Thai counterparts during their Round of 16 soccer match at the 17th Asian Games at Ansan Wa Stadium in Incheon, South Korea, on Sept 25. China lost to Thailand 2-0. [Photo/IC]
Chinese soccer fans were left disheartened again as the U-23 team ended the Asian Games campaign with a 2-0 loss against against Thailand, turning a redemption-seeking rematch into another blow.
Many Chinese fans were still reeling from a humiliating 5-1 loss to the visiting Thais in an 2013 international friendly. The loss triggered public furor against the poor-performing national team and its then head coach Jose Camacho.
Even so, soccer is never short of avid fans in China. The 2014 Brazil World Cup sparked a soccer-themed summer in which sleep-deprived fans, eyes glued to TV screens, cheered and sobbed for any national team but China's, which has only qualified once – at the 2002 South Korea- Japan World Cup.
A weak national team seems a chronic pain for Chinese fans, who often cite poor professionalism and lack of fighting spirit as reasons for the team's downfall.