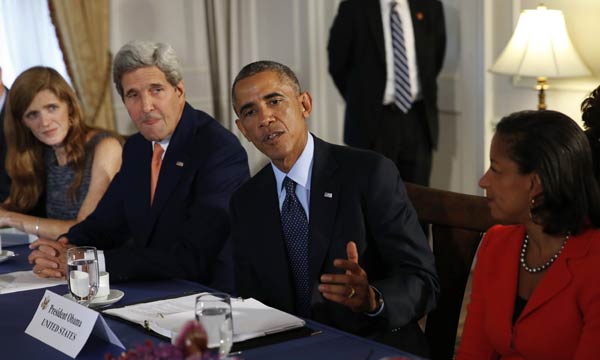 US President Barack Obama speaks as he meets in New York with representatives (not pictured) of the five Arab nations that contributed in air strikes against Islamic State targets in Syria, September 23, 2014. [Photo/Agencies]
WASHINGTON -- US President Barack Obama on Tuesday called for further coalition efforts to strike Islamic State (IS) militants in Syria.
He made these remarks at the White House lawn before leaving for a series of UN meetings in New York.
"I will have the opportunity to meet with Prime Minister (Haider) Abadi of Iraq and with friends and allies at the United Nations to continue building support for the coalition that is confronting this serious threat to our peace and security," Obama said.
"Earlier this month, I outlined for the American people our strategy to confront the threat posed by the terrorist group known as ISIL," he said, adding that "as part of this campaign, the United States would take action against targets in both Iraq and Syria so that these terrorists can't find safe haven anywhere."
US military forces and partner nations have undertaken military actions against the IS forces in Syria overnight, according to a statement released by the Central Command on Tuesday.
A mix of fighters, bombers, remotely piloted aircraft and Tomahawk missiles conducted 14 strikes against IS targets, the statement said.
The strikes destroyed or damaged multiple IS targets in the vicinity of the towns of Ar Raqqah in north-central Syria, Dayr az Zawr and Abu Kamal in eastern Syria and Al Hasakah in northeastern Syria.
The targets included IS fighters, training compounds, headquarters, command and control facilities, storage facilities, a finance center, supply trucks and armed vehicles, it said.
The United States employed 47 Tomahawk missiles, launched from USS Arleigh Burke and USS Philippine Sea, which were operating from international waters in the Red Sea and North Arabian Gulf.
In addition, US Air Force, Navy and Marine Corps fighters, bombers and remotely piloted aircraft deployed to the US Central Command area of operations participated in the airstrikes.
Bahrain, Jordan, Saudi Arabia, Qatar and the United Arab Emirates also took part in or supported the airstrikes against IS targets, the statement said, adding that all aircraft safely exited the strike areas.
The United States conducted these strikes as part of Obama's comprehensive strategy to degrade and ultimately defeat IS.
Going forward, the US military will continue to conduct targeted airstrikes against IS in Syria and Iraq as local forces go on the offensive against the terrorist group, the statement said.
Separately, the United States also took actions to disrupt the imminent attack plotting against the United States and Western interests conducted by a network of seasoned al-Qaida veterans known as the Khorasan group.
The group has established a safe haven in Syria to develop external attacks, construct and test improvised explosive devices and recruit Westerners to conduct operations, the statement said.
These strikes were undertaken only by US assets. In total, US Central Command forces conducted eight strikes against Khorasan targets located west of Aleppo, including training camps, an explosives and munitions production facility, a communication building and command and control facilities.
At present, about two thirds of the estimated 30,000 IS fighters are based in Syria. The remainder has captured large parts of northern Iraq, although their momentum has been blunted there by US fighter, bomber and drone aircraft.
Over the last few weeks, US spy planes have been flying over Syria collecting intelligence on potential IS targets.
Also, in Iraq on Monday, US military forces continued to attack IS militants, using attack aircraft to conduct four airstrikes, which destroyed two IS Humvees, an IS armored vehicle and an IS fighting position southwest of Kirkuk.
So far, there have been 194 US airstrikes on IS targets in Iraq since bombing started there on Aug. 8.
Last week, US Congress and Obama agreed to fund a 500-million-US-dollar program designed to recruit, train and equip a force of the Syrian opposition.
They will be trained in Saudi Arabia to defend their communities against IS fighters and the Syrian regime.
Related stories:
US, Arab partners launch first strikes on IS in Syria
US's Arab partners helping in strikes in Syria