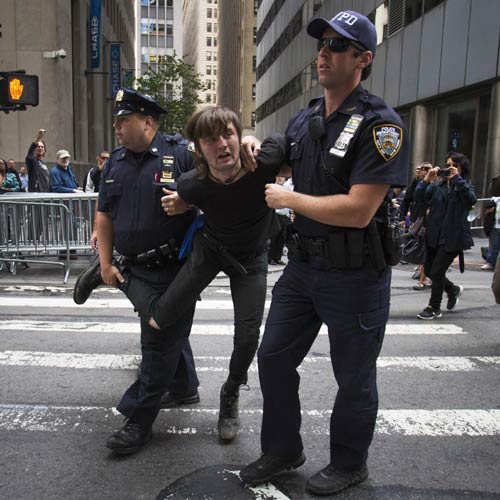 A protester is detained during the 'Flood Wall Street' demonstration in Lower Manhattan, New York, September 22, 2014. [Photo/Agencies]
NEW YORK - Dozens of protesters were arrested on Monday during a demonstration in New York City to denounce what organizers say is Wall Street's contribution to climate change.
Hundreds of protesters had earlier in the day blocked streets near the stock exchange, in an action called Flood Wall Street.
It came on the heels of Sunday's international day of action that brought 310,000 people to the streets of New York City in what activists said was the largest protest ever held on climate change.
Sunday's turnout was about triple that of the previous biggest demonstration on climate change, a Copenhagen demonstration five years ago.
Shortly after the close of trading on the New York Stock Exchange at 4 pm, demonstrators tried to push back metal barricades the New York Police Department had used to keep them away, an effort that ended when police turned pepper spray on the crowd.
Police later broke up the gathering, ordering remaining protesters to disband. A core group of a few dozen activists staged a sit-in steps away from Wall Street, and police officers handcuffed and walked them away one-by-one, taking them to police vans parked nearby.
Earlier in the day, police had arrested three protesters.
An NYPD representative could not immediately provide an exact tally of how many protesters were arrested on Monday.
The protest group behind Monday's action has roots in the Occupy Wall Street movement that started in a downtown Manhattan park in 2011 to protest what it called unfair banking practices that serve the wealthiest 1 percent, leaving behind 99 percent of Americans.
Kai Sanburn, a 60-year-old nurse and mother of two from Los Angeles, said she had traveled to New York for Sunday's march and wanted to do more.
"Marching is wonderful but to really change things we really need to change things," Sanburn said on Monday. "The action here against Wall Street is really expressive of the feeling that corporations and capitalism no longer serve people."
Flood Wall Street organizers said they hope Monday's action will draw a link between economic policies and the environment, accusing top financial institutions of "exploiting frontline communities, workers and natural resources" for financial gain.
The event is part of Climate Week, which seeks to draw attention to carbon emissions and their link to global warming, and it comes ahead of a Tuesday United Nations Climate Summit.