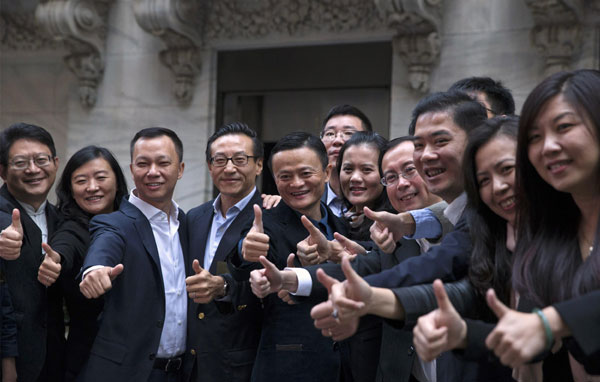 Alibaba Group Holding Ltd founder Jack Ma (C) and Joseph Tsai (center L), vice chairman and co-founder, pose with employees as they arrive for the company's initial public offering (IPO) under the ticker "BABA", at the New York Stock Exchange in New York September 19, 2014. Alibaba Group Holding Ltd's shares surged in their first day of trading on Friday as investors jumped at the chance to get in on what looks likely to be the largest IPO in history and profit from China's growing middle class. [Photo/Agencies]


NEW YORK - China's e-commerce giant Alibaba Group Holding Limited Friday ended its first day of trading at $93. 89 a piece, surging 38 percent following a record initial public offering on the New York Stock Exchange (NYSE).
Alibaba shares opened more than two hours after the opening bell at 92.70 dollars per share, 36 percent higher than its initial public offering (IPO) price of 68 dollar set Thursday.
The company's shares popped to a session high of 99.70 dollars apiece shortly after it opened for trading, and were mostly traded between the range of 90 dollars and 100 dollars.
After trading for the first day, the company's market capital reached 230 billion dollars, compared with 150 billion dollars market capital of its American rival Amazon.
The company offered 320 million shares and raised 21.8 billion dollars, becoming the largest IPO in US history.
Director of NYSE Floor Operations at O'Neil Securities Inc. Kenneth Polcari told Xinhua that closing at 93.89 dollars, about 1. 10 cents higher than where it opened, showed how well the process worked.
"I think the first performance is actually was much better than most expectations," Polcari said.
Executive Chairman of Alibaba Group Jack Ma said in an interview with CNBC that he was "excited and honored about the IPO. "
"We have a dream. We hope in the next 15 years that the world changes because of us," said Ma, promising they would work to take care of investors and make shareholders happy.
"Today what we got is not money what we got is the trust from the people, millions of small businesses," he said.
Alibaba, founded by Ma in 1999, has grown into one of the largest e-commerce behemoths in the world and now controls 80 percent of all online retail sales in China. It started its global roadshow on Sept. 8 in New York and received enough bookings for the offering within five days thanks to massive interest from worldwide investors.