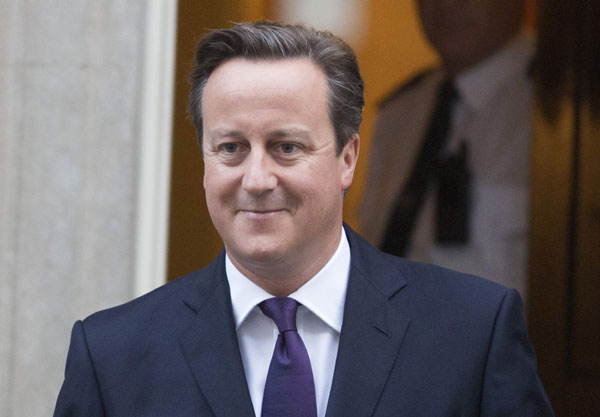 Britain's Prime Minister David Cameron prepares to speak in front of 10 Downing Street, in central London September 19, 2014. Cameron said on Friday the Scottish National Party (SNP) would join talks on transfering further powers to Scotland after voters rejected independence. "I've just spoken to (SNP leader) Alex Salmond, congratulating him on a hard-fought campaign. I'm delighted the SNP will join talks on further devolution." [Photo/Agencies]
LONDON - British Prime Minister David Cameron pledged Friday morning that Scotland will have more power over its affairs, and England, Wales and Northern Ireland must "have a bigger say" over theirs as well.
More than 4 million voters across Scotland went to the polls on Thursday to decide whether or not it should become an independent country, with the final overall result on Friday morning showing that a majority of the voters reject independence.
"We have heard the voice of Scotland -- and now the millions of voices of England must not go ignored," Cameron said in a televised speech in front of Downing Street following the decisive announcement of the "No" vote in the referendum.
The prime minister called for moment that everyone "comes together to build that better, brighter future for our entire United Kingdom."
Before his speech, Cameron also spoke to Scottish First Minister Alex Salmond, leader of the Scottish National Party (SNP).
Cameron said on his twitter feed "I'm delighted the SNP will join talks on further devolution."
Deputy British Prime Minister Nick Clegg, leader of the Liberal Democrats, said he was "absolutely delighted" that the Scottish people have taken this momentous decision to safeguard "our family of nations."
"A vote against independence was not a vote against change and we must deliver on time and in full the package of new powers to Scotland," he tweeted following the announcement of the "No" victory.
"The independence referendum has led to demand for constitutional reform across the UK. People want power in their own hands, not hoarded in Westminster," he continued.
"In a dangerous and uncertain world I have no doubt we are stronger, safer, and more prosperous together than we ever could be apart," the deputy prime minister noted.
Ed Miliband, leader of the opposition Labour Party, said the United Kingdom is "stronger today than it was yesterday," adding that he was delighted and proud that the people of Scotland have made this historic decision to stay.