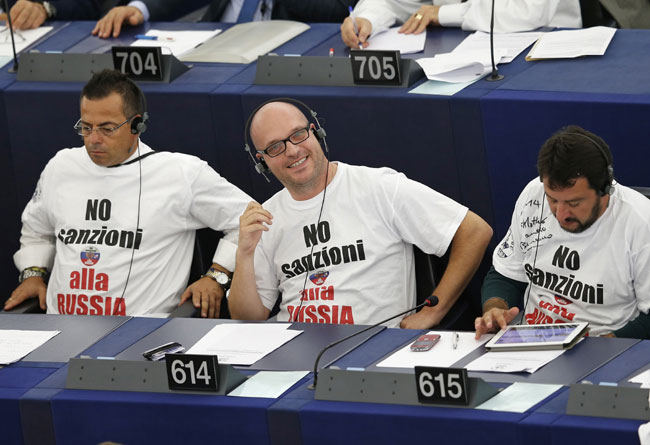 Italian Members of the European Parliament Gianluca Buonanno (L), Lorenzo Fontana (C) and Matteo Salvini attend a voting session on the EU-Ukraine Association agreement at the European Parliament in Strasbourg, September 16, 2014.[Photo/Agencies]
STRASBOURG - The European Parliament (EP) during a plenary session in Strasbourg on Tuesday ratified an association agreement signed on June 27 between the European Union (EU) and Ukraine.
The agreement, which includes a comprehensive free trade deal, was ratified at the same time by the Ukrainian Parliament in Kiev.
The accord will establish "a deep political association and economic integration between the EU and Ukraine and provide for mutual free market access," an EP statement said.
MEPs (members of the European Parliament) backed the agreement with 535 votes in favor and 127 against.
"Through this ratification, Ukraine's European choice will be institutionalized and will bind the futures of the EU and Ukraine together," rapporteur Jacek Saryusz-Wolski, a Polish member of the majority European People's Party (EPP), stated before the vote.
The political provisions in the deal take Ukraine one step closer to the EU by opening new channels for political dialogue and establishing ground rules for cooperation in areas such as energy, transport and education.
It requires Ukraine to implement reforms and respect democratic principles, human rights and the rule of law.
Among other rules, the deal provides for greater movement of workers and sets targets for establishing a visa-free travel regime.
The free trade agreement integrates the EU and Ukraine markets by dismantling import duties and banning other trade restrictions,
albeit with limitations and transitional periods in "sensitive" areas, such as trade in agricultural produce.
As a result of Tuesday's vote, the deal will be applied provisionally but the date still needs to be confirmed by the Council of the European Union.
To take full legal effect, the deal has to be ratified by the 28 EU member states. So far, six states have done so, but several years may elapse before the process is completed.
It was planned to apply the trade rules from Nov. 1 this year, but on Sept. 12, the EU, Ukraine and Russia agreed in talks to delay the provisional entry of the trade rules until Dec. 31, 2015.
The EU Commission says that it will continue to apply EU "autonomous trade preferences" to Ukraine, which in effect opens the EU market to Ukraine unilaterally. A decision to prolong these preferences later would need the backing of the EP.