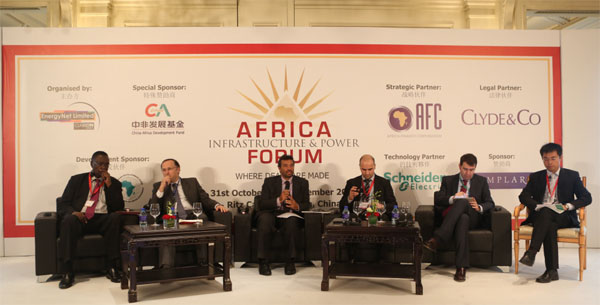 As the world sets its eyes on pouring investments into Africa's lucrative infrastructure and power sector, China is taking the lead. China's investment in Africa's has increased a staggering 30-fold since 2005, with over 2,000 Chinese firms now present in 50 African countries. This number continues to grow at a phenomenal pace as the Sino-Africa tie grows stronger.
A high powered delegation of Government Ministers and project developers from across Africa will come together in Beijing at The 3rd Annual Africa Infrastructure and Power Forum on 25-26 September 2014 to announce new projects and to present Chinese Investors and technology providers with the first investment opportunities in some of the biggest live and planned projects across the continent.
Ministers who will be presenting include:
H.E Christopher Yaluma, Minister of Mines Energy and Water Development, Zambia
Joseph Njoroge, Principal Secretary, Ministry of Energy Government of Kenya
H.E Charles Kitwanga, Deputy Minister for Energy and Minerals, United Republic of Tanzania
Hon. Willem Isaacks, Deputy Minister of Mines and Energy, Namibia
Project developers who will be announcing new projects include:
Neside Tas Anvaripour, Director, Africa50 Infrastructure Fund
Siyanga Malumo, Chairman, Copperbelt Energy Corporation
Ibrahim Babagana, Ag Director Electric Power Bureau of Public Enterprises, Nigeria
John Olatunde Ayeni, Chairman, Skye BankSome of the biggest Chinese investors will also be presenting their investment plans in to Africa's infrastructure and power sector
A senior representative of China-Africa Development Fund, China's largest equity fund focused on African investments, will deliver an exclusive keynote address at the forum presenting CADFund's upcoming plans and investment strategies.
Also joining us as our Keynote speaker will be, Wei Zhaofeng, Vice President of China Electricity Council, the largest council in China representing the biggest Chinese Power companies looking to invest in Africa's power industry.
Chinese Investors who will be presenting their investment plans include:
Wu Quan, Vice President, GD Power Development Co., Ltd.
Hong Xing, Vice President, China Henergy Group
Shen Weidong, Chief Representative of South Africa, China State Nuclear Technology Co
Ma Xiaohui, Director of West Asia and Africa, Goldwind
Bosheng Lin, Vice President, Chint