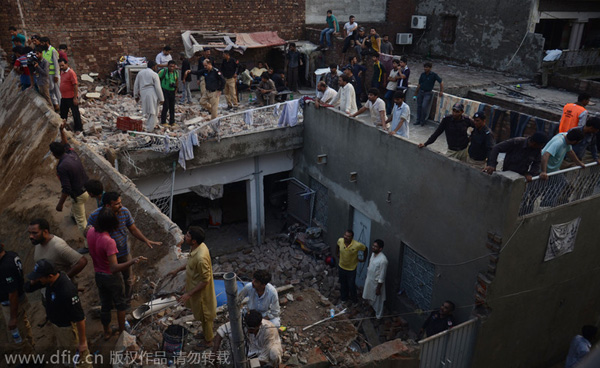 Pakistani rescuers and local residents search for victims and survivors at the collapsed mosque to save worshippers trapped in a roof collapses at Jama Masjid Hanafia inLahore, Pakistan, September 9, 2014. [Photo/IC]
ISLAMABAD - Death toll of mosque roof collapse in Pakistan's eastern Lahore city has risen to 24 on Wednesday and rescue work continues in the area, local media reported.
The cave-in happened on Tuesday afternoon when around 30 to 40 people were praying inside the mosque located in the suburban Daroghawala area of Lahore, the capital city of the country's eastern Punjab province.
Residents said that the structure of the mosque building was very old and its huge minaret fell due to the recent heavy rains, bringing down the roof with it.
About seven people who were in the ablution area outside the mosque also got slightly injured in the incident.
Even after 20 hours, rescue work can not be completed, as heavy machinery could not be transported to the site due to narrow streets.
Dozens of people have died because of roof collapsing incidents in the largest province in Punjab as a result of continuous heavy rain.
In a press release, National Disaster Management Authority said on Wednesday that over 203 people were killed and hundreds of others injured in rain-triggered accidents in the country in the recent spate of monsoon rains.
The government has urged the residents of dilapidated buildings to vacate the structures as safety measures.
Chief Minister Punjab Shahbaz Sharif reached at the mosque roof collapse site and announced financial assistance to the close kin of the deceased.