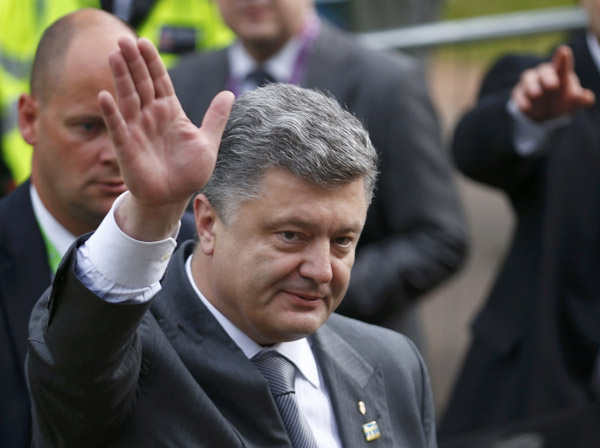 Ukraine's President Petro Poroshenko waves after speaking to the media on the second and final day of the NATO summit at the Celtic Manor resort, near Newport, in Wales September 5, 2014. Poroshenko confirmed on his Twitter account that envoys meeting in Minsk to end fighting between Kiev's forces and independence-seeking insurgents had signed a ceasefire agreement that would come into effect later on Friday. [Photo/Agencies]
KIEV - Ukrainian President Petro Poroshenko on Friday ordered government forces to stop military actions against independence-seeking insurgents in eastern regions, the presidential press service said.
"I have ordered the chief of the General Staff of the Ukrainian Armed Forces to cease fire starting from 6 pm local time (1500 GMT) Friday," Poroshenko said in a statement published on the presidential website.
He also instructed Ukrainian Foreign Minister Pavlo Klimkin to coordinate with the Organization for Security and Cooperation in Europe(OSCE) to ensure international control over the compliance of the truce.
"Human life is the highest value. That's why we must do our best to stop the bloodshed and put an end to sufferings of the people," he said in the statement.
Poroshenko's order came after representatives of Ukraine's government and insurgent leadership signed a cease-fire protocol in the Belarusian capital of Minsk. The deal took effect from 1500 GMT Friday.
Russian and OSCE emissaries also participated in the Minsk talks, which were aimed at seeking a political settlement of the bloody conflict in eastern Ukraine, which has so far claimed at least 2,500 lives.