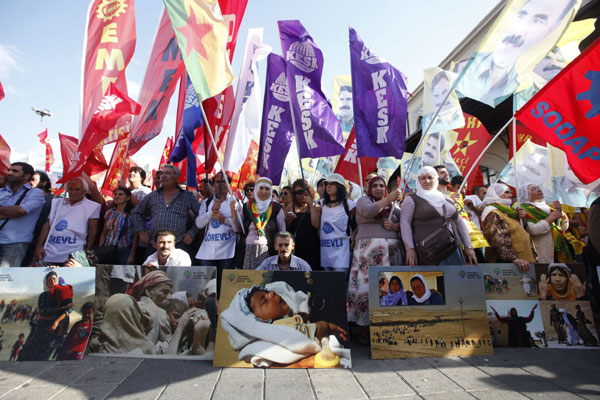 Demonstrators attend a peace day rally as they hold pictures of displaced people from the minority Yazidi sect, fleeing violence in Iraq, at Kadikoy square in Istanbul, Aug 31, 2014. [Photo/Agencies]
BAGHDAD - At least 1,420 people were killed in Iraq in August as sectarian violence raged in the country's centre and north, the United Nations said on Monday.
A further 1,370 Iraqis were wounded and 600,000 people forced to flee as Islamic State militants, who have grabbed large areas of territory since June, pushed into land controlled by Kurdish troops and targeted religious minorities.
The UN said the casualty figures could be far higher but it could not get independent verification of reports of hundreds of incidents in areas under Islamic State's control.
Violence killed 1,737 people, mostly civilians, in Iraq in July, and 2,400 in June, the UN data showed.