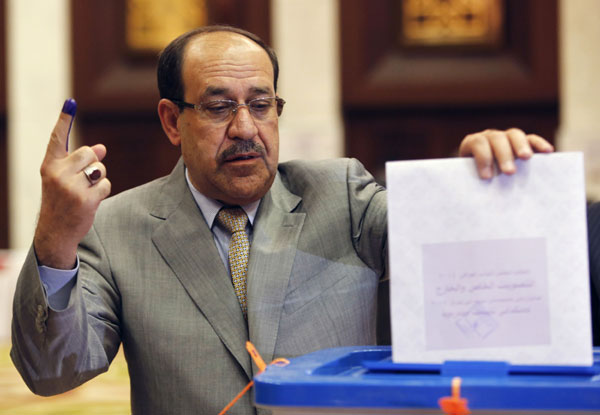 Iraq's Prime Minister Nouri al-Maliki casts his ballot during parliamentary election in Baghdad in this April 30, 2014 file photo.[Photo/Agencies]
BAGHDAD - Iraqi Prime Minister Nuri al-Maliki said late Sunday that he will file a legal complaint against newly-elected President Fuad Masum for violating the country's constitution.
In a nationally televised speech on Sunday night, Maliki said the complaint will be submitted to the federal court as Masum did not task him and his State of Law Coalition to form the next cabinet.
Masum's attitude "is a coup on the country's constitution and political process," Maliki said, warning that "the president's deliberate violation of the constitution will have grave consequences on the unity, sovereignty, and independence of Iraq."
On July 24, Iraqi lawmakers elected Masum as the new president of Iraq, signalling an important progress in forming a new government in the violence-torn country.
Within two weeks after the new president is elected, he must ask the "largest bloc" in the parliament to nominate a prime minister to form a new government, according to Iraq's constitution.
But there is still dispute on the "largest bloc" in the current parliament and no decision has been made so far among the Iraqi lawmakers.