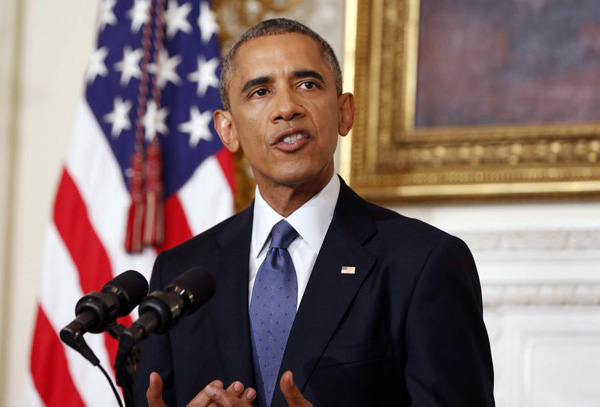 US President Barack Obama talks about the humanitarian relief situation in Iraq, at the State Dining Room of the White House in Washington August 7, 2014.  [Photo/Agencies]
Beijing has responded to US President Barak Obama's announcement of airstrikes against extremists in Iraq by taking a position that shows respect to Iraqi sovereignty and contributes to security there.
The spokesperson's office at the Ministry of Foreign Affairs told China Daily on Friday that Beijing "takes an open attitude toward any actions that facilitates ensuring security and stability in Iraq on the precondition of putting respect in place for Iraq's sovereignty".
The Chinese side supports efforts made by Iraq in safeguarding sovereignty, independence and territorial integrity as well as combating terrorism, the office said. Beijing "hopes that Iraq returns to a stable and normal order at an early date".
Obama on Thursday authorized targeted air strikes against Sunni fighters in Iraq, saying the measure was to avert "genocide" in the country, Reuters reported.
Chinese evacuation from Iraq