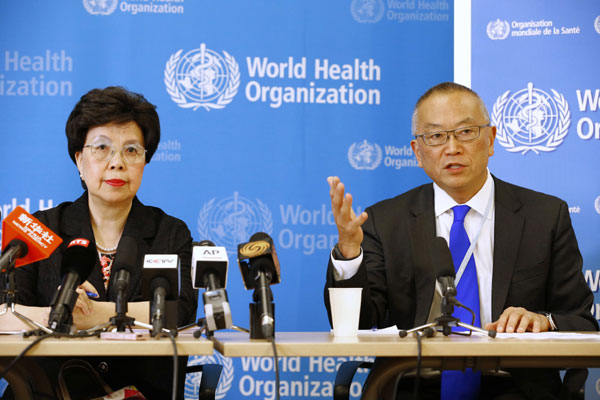 World Health Organization (WHO) Director-General Margaret Chan (L) sits next to Keiji Fukuda, WHO's assistant director general for health security, as he addresses the media after a two-day meeting of its emergency committee on Ebola, in Geneva on August 8, 2014. [Photo/Agencies]
LONDON - West Africa's Ebola epidemic is an "extraordinary event" and now constitutes an international health risk, the World Health Organisation (WHO) said on Friday.
The Geneva-based UN health agency said the possible consequences of a further international spread of the outbreak, which has killed almost 1,000 people in four West African countries, were "particularly serious" in view of the virulence of the virus.
"A coordinated international response is deemed essential to stop and reverse the international spread of Ebola," the WHO said in a statement after a two-day meeting of its emergency committee on Ebola. The declaration of an international emergency will have the effect of raising the level of vigilance for transmission of the virus.
The agency added that while all states with Ebola transmission - so far Guinea, Liberia, Nigeria and Sierra Leone - should declare a national emergency, there should be no general ban on international travel or trade.
Keiji Fukuda, the WHO's head of health security, stressed that, with the right steps and measures to deal with infected people, Ebola's spread could be stopped.
"This is not a mysterious disease. This is an infectious disease that can be contained," he told reporters on a telephone briefing from the WHO's Geneva headquarters. "It is not a virus that is spread through the air."
The WHO said the current outbreak was the most severe in the almost 40 years since Ebola was first identified in humans.
This was partly because of weaknesses in the countries currently affected, it said, where health systems were fragile and lacking in human, financial and material resources.
It also said inexperience in dealing with Ebola outbreaks and misperceptions of the disease, including how it is transmitted, "continue to be a major challenge in some communities".
Although most cases of Ebola are in the remote area where Guinea borders Sierra Leone and Liberia, alarm over the spread of the disease increased last month when a US citizen died in Nigeria after travelling there by plane from Liberia.
After an experimental drug was administered to two US charity workers who were infected in Liberia, Ebola specialists have urged the WHO to offer such drugs to Africans. The UN agency has asked medical ethics experts to explore this option next week.