Ebola emergency turns spotlight on promising experimental drugs
With hundreds of people in Africa suffering the devastating effects of Ebola, health experts are scrambling to determine which drugs might offer the best experimental treatment, and researchers are being pressured by government officials to speed up their work.
Three treatments have shown especially promising results in monkeys, the researchers said. One, produced by tiny California biotech firm Mapp Biopharmaceutical, gained international prominence this week when it was given to two US aid workers who contracted Ebola in West Africa and who have since shown signs of improvement.
Other treatments are from Vancouver-based Tekmira Pharmaceuticals and privately held Profectus Biosciences, of Tarrytown, New York.
On Wednesday, the World Health Organization said it will discuss next week the ethics of using Ebola drugs that have never been cleared for human use, wary of a long history of medicines being tested on people who were never properly informed of the risks. In the countries hardest-hit by Ebola, suspicion of foreign medical workers is already widespread.
But the health minister of Nigeria, Onyenbuchi Chukwu, said this week that he had asked US health officials about access to experimental Ebola therapies. US drugmakers are fielding questions from government officials about their ability to supply treatments in sufficient quantities should the request come.
"For years we've told the government you need to invest a little bit of money in this," said Profectus chief scientific officer John Eldridge. "And now it's, 'Oh my God, how fast can you make this?'"
US President Barack Obama said on Wednesday he lacks enough information to green-light Mapp's drug to treat the deadly Ebola virus, and that the initial response should focus on public health measures to contain the outbreak.
"We've got to let the science guide us, and I don't think all the information is in on whether this drug is helpful," Obama said, adding that public health officials, in the course of containing the current outbreak, could assess whether new drugs or treatments can be effective.
"We're focusing on the public health approach right now, but I will continue to seek information about what we're learning about these drugs going forward," he said.
Dr. James Crowe, director of the Vaccine Center at Vanderbilt University who has been developing an Ebola treatment similar to Mapp's, said a Pentagon agency contacted him this week about his work and added he will meet next week with government scientists about accelerating his research.
No Ebola drugs or vaccines have even entered midstage human trials, let alone been approved. The furthest along have been tested only in monkeys and a handful of humans.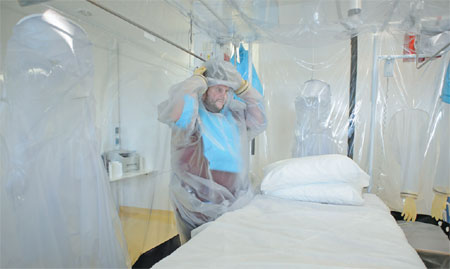 A nurse wears protective clothing as he demonstrates the facilities in place at the Royal Free Hospital in north London on Wednesday, in preparation for the possibility of a patient testing positive for the Ebola virus. The specialized unit allows a team of doctors and nurses to provide care for anyone with the deadly infection. Leon Neal / Agence France-Presse
(China Daily 08/08/2014 page12)
Today's Top News
Editor's picks
Most Viewed