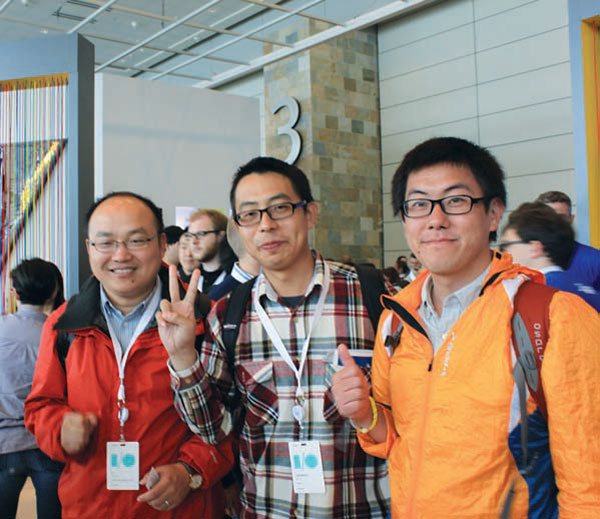 Chinese developers attend Google demos during the Google I/O annual conference at the Moscone Center on Wednesday in San Francisco. Qidong Zhang / China Daily
More than 6,000 geeks, app developers and Google fans flocked to San Francisco's Moscone Center on Wednesday to attend Google I/O's annual conference and unveiling of new products. Wearable devices, Google Fit for personal health, Google Auto for connected cars and Google TV were the favorites among Chinese developers here to explore and learn.
With a simple click on the Google Fit app, you can manage your daily workout information from number of steps to weight, meal intake and nutrition and a daily summary that can be uploaded for personal use or sharing.
"The service allows Google users to volunteer their health records either manually or by utilizing personal wearable devices to manage fitness, merging potentially separate health records into one centralized Google Fit profile," said Matias Duarte, Google's vice-president of design. "But the key point is: you are in control, it's your decision whether to share it with the public or not."
The previous Google Health service was released to general public in 2008 but closed in January 2012 due to lack of widespread adoption. The other concern was privacy related issues, since it did encourage users to set up personal medical profiles online, and according to its Terms of Service, Google Health is not considered a "covered entity" under the Health Insurance Portability and Accountability Act of 1996 (HIPAA), therefore HIPAA privacy laws do not apply to it.
Mike, a Chinese developer who declined to give his company name, said the most attractive announcement for him today concerned the wearable devices.
"It's fascinating to see what Google has announced on wearable devices, which is definitely trendy for China, and something we could witness and learn," he said. "We are actually working on similar developments on our own platform, which is tailored for the Chinese market and end users."
Bruce, a Chinese software engineer attending the show, said what he saw today about Google Auto was something interesting to look into.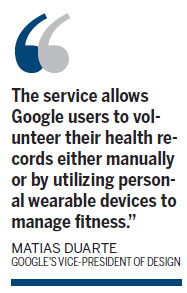 "Google Auto allows us to have a brand new experience in connecting our car, which has not happened in the Chinese market yet, definitely something the industry can utilize for the future. Since Android is the most used mobile operating system today, it gives all Chinese developers a positive signal on creating Android experiences within a strong ecosystem," said the engineer, who also declined to give his company's name.
For high-tech firms, much of the enthusiasm behind the emerging wearable devices comes from the prospect of a bountiful data platform. Companies providing software or making these devices see revenue potential in helping customers store and manage data.
In the Wednesday keynote speech, Sundar Pichai, Google's senior vice-president of Android, Chrome and Apps, said that Google would share basic design building blocks of smart phones with manufacturers in developing countries. Its platforms of release include Mobile Momentum, platform evolution and developer success.
According to Pichai, Google's global smartphone shipments reached 315 million in Q4 of 2013, and its Android tablet activations had an increase of 62 percent in 2014. The 30-day active Android users reached 538 million in 2013, and its 30-day active users on Android platform has reached 1 billion.
"We are pooling our resources together to work on a set of platforms including high quality smartphones, turnkey solutions for our OEM vendors and initiate partnerships on software to innovate our user friendly experience," said Pichai.
Kun Wu, senior project leader of Shanghai-based TouchPal, a mobile software developer running on multiple platforms including Android, iOS, Windows Mobile and Windows 8, said he was impressed by all the new products.
"The new announcement gives us better ideas of what kind of new services are delivered on Google's Android platform, which is the most used platform in China," said Wu.
Avi Greengart, research director at Current Analysis based in New York, said Google's release shows "a new, graphically consistent version of Android coming later this year, and extending Android from phone to tablet, TV, car and wrist. However, it did not talk about Glass, Nest, Google+, or Search. Nor did it talk about expanding its presence in China with Lenovo."
kellyzhang@chinadailyusa.com